Previous Builder
Next Builder
Date: 09-27-2020

Number of Hours: 8.00

Short Description: Reaming Wing Attach Holes


Improper attach hole reaming would really set the project back. If the holes are reamed too large, it is possible to buy expensive oversize bolts, but I really don't want to reduce the stress margin on a joint that I don't like anyway.
My friend Mike is also building a Nexus, but he has not yet started his spar. I'm going to write some thoughts on this process for him while they are fresh in my mind. (too much detail warning)
First, the hole you are about to ream needs to be held absolutely tightly allowing NO movement. Seemed to me a good way to do this is with a clamp as shown in image 1. Another reason for the clamp is that the final position of the bolted joint will pull the wing attach fittings closely to the aluminum cap strips. We are dealing with ten thousands of an inch on the diameter requirements, so any small variation on the angle between the aluminum cap strips and the steel fittings will create an incorrect fit. This also implies that when the final bolts are installed, the clamp needs to hold things in place. With the clamp in place, the reaming was started working up from the 35/64 pin size to 0.5585 diameter using a B size reamer. (I used a good HSS Reamer 21520 from Chadwick & Trefethen) There is some technique needed to make sure you take the right amount of material with each pass, and that you keep the hole straight. Once I got to 0.5585, I switched to a non-adjustable straight reamer that cuts at 0.5600. This was done to ensure the hole was straight. After this, the final cut depends on your bolts. My NAS6609 bolts had diameters that varied between 0.5603 and 0.5606 inches. I wanted to leave about .0002 - .0003 interference on the bolts at this point. A "zero" clearance fit (per MII Instructions) is very hard to achieve without oversizing the hole. Needless to say, you can't put metal back. As it turns out, I can push the bolts in about half way by hand, then it would take light taps or chilling to go all the way.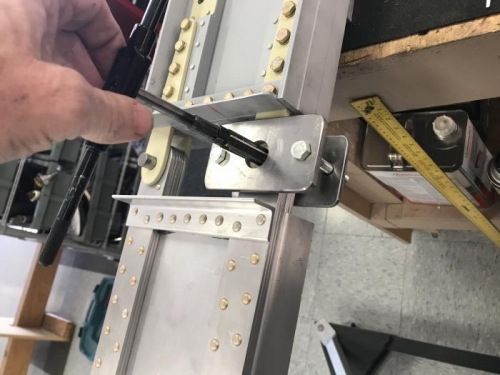 Reaming First Hole with Clamp in Place
First Hole to Final Size with Matched Bolt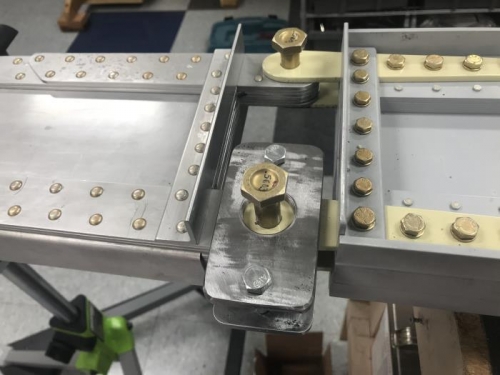 Last Hole/Bolt Combination Fitted
Previous Builder
Next Builder