Previous Builder
Next Builder
Date: 03-21-2020

Number of Hours: 1.00

Short Description: 3: Access Problems

Now that I decided I'm going to fully assemble the empennage here in Roxby, I thought I'd check how I'm going to get the aircraft off the property and onto a trailer once I'm done.

The shed I'm renting is at the back of the property, with access out to the road through an undercover carport, which is quite narrow.

I took a heap of measurements and drew up a scale drawing of the carport. I then made a scale cutout of my plane, with empennage attached.

Nope, there's no way I can move the cutout through the carport drawing without "hitting" the house or posts.

Hmmmm, that changes things!

When finished, I need to get my plane through this carport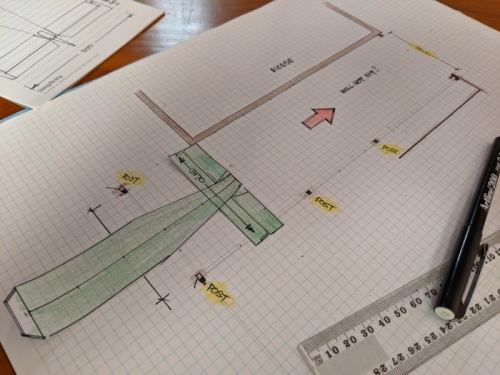 A scale drawing proves it's impossible to get my plane out with empennage attached
Previous Builder
Next Builder