Previous Builder
Next Builder
Date: 10-15-2017

Number of Hours: 5.00

Short Description: Right Wing Flap


The major job completed today was attaching the right wing flap. I "pressed" the brass bushes into the flap hinge brackets (tapping with a hammer against a heavy steel bucking bar), being careful to leave a bit sticking out either side of the hole. This gives the clearance necessary to allow the flap to swing freely.

When fitting the flap, I had a lot of trouble getting one of the hinge bolts in. It would seem that there is a slight bit of misalignment. I did eventually get it in however, and the flap movement seems okay.

It's awesome to stand back and look at the wing with control surfaces attached.

The plans call for a 3/16" gap between the aileron and flap. It's a testament to the Vans production line, because straight off the bat I measured exactly 3/16". Nice!

Also today I got a few other small things completed:
* rubbed the aileron control arm back and repainted (to fix the scratches created yesterday when it was hitting against the rear spar;
* installed the Dynon roll servo wiring
* fitted the left aileron attach brackets
* made up the various small parts ready to attach the left aileron

I also spent about an hour with isopropyl alcohol rubbing sticky tape residue off the flap skins. Some muppet at Vans decided it would be a good idea to apply thin, clear packing tape directly to the aluminum surface when preparing the flaps for transport. I would love to get him back here to show him the mess that this makes when trying to remove it. Anyway, it's all cleaned off now.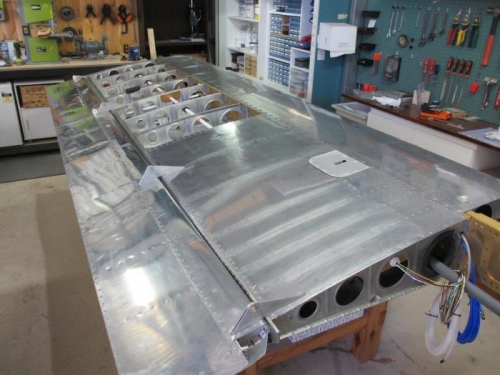 The right wing, with aileron and flap attached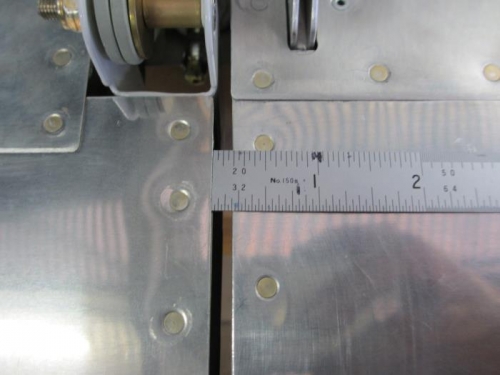 The plans call for a 3/16" gap between aileron and flap. I reckon this's good enough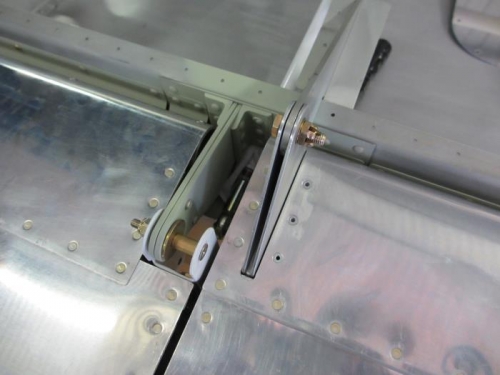 Aileron and flap attachment detail
Previous Builder
Next Builder