Date: 12-07-2019

Number of Hours: 4.00

Short Description: Cockpit Roll Bar


Very hot today, so only 4 hours spent on the plane. When the roll bar was bolted down I noted the right side was not square with the fuselage. The instructions actually reference this, suggesting that shims may be required.....so I made a shim from a piece of scrap aluminium. All good.

With the roll bar nice and square the next step is to cut the forward brace piece to length, but here's the thing....with the roll bar bolted down you cannot get the brace piece in. This was a matter of disassemble, fit brace, assemble, check fit, disassemble, adjust brace, assemble, check fit .... etc, etc. Very time consuming, but I got there in the end.

With the brace in place I then drilled the top end for a AN4 bolt, and match drilled the bottom end to pre-punched holes in the forward frame.

With all pieces deburred and rubbed back to take the gloss off I then set up my spray gun and painted the white parts a nice grey colour to match the rest of the interior.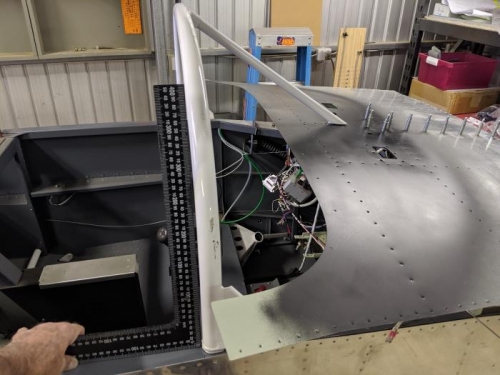 Shimming the roll bar to make sure it's square when bolted down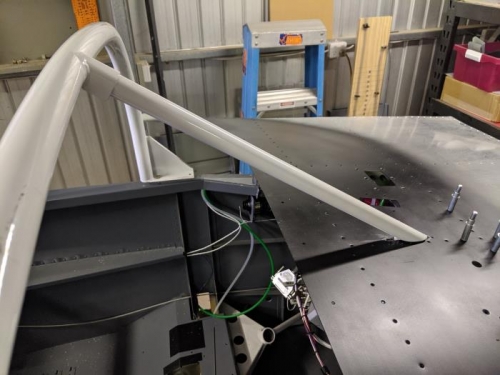 Brace piece cut to length and ready for drilling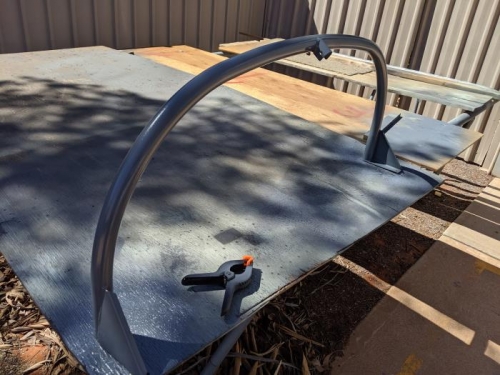 Painting to match the rest of the interior