Previous Builder
Next Builder
Date: 01-16-2020

Number of Hours: 1.00

Short Description: EAA Tech inspection

Today, i was able to get Jim Frisbie, a local EAA chapter 105 tech councelor to come by and inspect the work on my Empannage.
I met Jim at the airport i fly out of. He is a "two time offender" having a completed RV-9A, and currently building an RV-10.
All went well with the inspection, and I look forward to "Tapping" his knoledge as my build moves forward.
Hard to read the actual form picture. His comments were as follows:
"Excellent workmanship and attention to detail. Empennage 95% complete. Ready to take delivery of wing kit."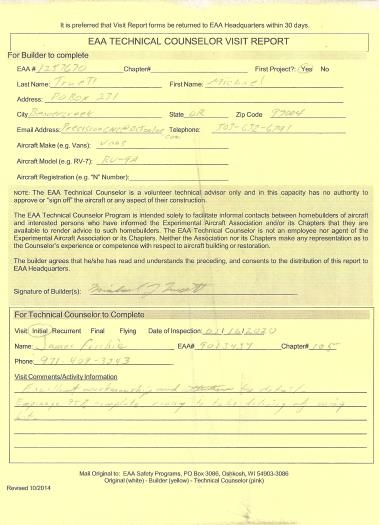 1st tech inspection
Previous Builder
Next Builder