Previous Builder
Next Builder
Date: 02-12-2018

Number of Hours: 2.60

Short Description: Left Wing, fitting LE cores


Bonded LFC4/5 to Left Wing Shear Web, using Urethane glue, weighted for cure, and tying the cores together with nails. Frikken disaster, as the expanding glue has run down over the Spar Cap part of the Shear Web and will have to be mechanically removed. For the Right Wing I'll use micro, or mask off the Spar Cap trough with duct tape.

Cut out and roughly bent A2 x 2, and drilled pilot holes. Will get back to it when the ailerons are ready to get the angle right, but should have no problem bending up A5 x 4, saving a total of US$76. Well a bit less than that, as I need to buy some more metal. Well a bit more than that, coz I would have to pay shipping as well... I don't think the Cozy Grrrls are big losers here, my next order will run to over a grand...

Just have to run through what fasteners I will need from Aircraft Spruce, then I can see how I go buying metal, then Aircraft Spruce, then the Cozy Grrrrls!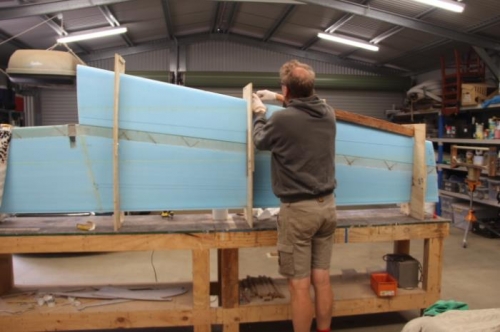 Forward cored bonded on, fixing join with nails
Previous Builder
Next Builder