Previous Builder
Next Builder
Date: 07-01-2021

Number of Hours: 22.00

Short Description: Landing Gear - Debugging & Testing


Oh, what sweet torture.... all these hours spread over nine work sessions. This was just supposed to be testing, some de-bugging and then securing all the switches, lights, wiring, circuits boards, etc into final positions for the landing gear system. But it involved a lot of frustration, head scratching, re-doing, testing, swearing, phoning, asking for help, trouble shooting and around and around, again and again. The root cause turned out to be that the installation manual for the ACI 2085B Gear Relay Interface Board was incorrect. Page 2 of this manual has a statement "disregard actual on-board silk-screened terminal labelling". This corrective statement is in fact incorrect. The terminal labelling on the board is actually correct. Once I twigged to this and installed the wiring connectors using only this terminal labelling and the Wiring Harness List page 13/17 I was able to move ahead.
I had to play with the four LED gear position lights a bit to get them to light up (there is only one correct way for them to be inserted), relocate two of the four micro-switches to get them to activate, and figure out how the connections on the up-down toggle switch worked... but these were minor compared to the Interface Board SNAFU.
Finally after seeing the main gear go up and down, the lights go on and off and the tail wheel retract and extend, all as they should, I breathed a little easier and then finalized the installation (well 99%). I placed the Interface Board behind the main bulkhead top square tube just above the Fuel Pump by fabricating a support out ofaluminum angle and flat bar to hang and protect it.
Unfortunately there is still 1% to fix as the tail wheel doesn't readily retract and one of the blue LEDs doesn't light up... but enough of this system for now.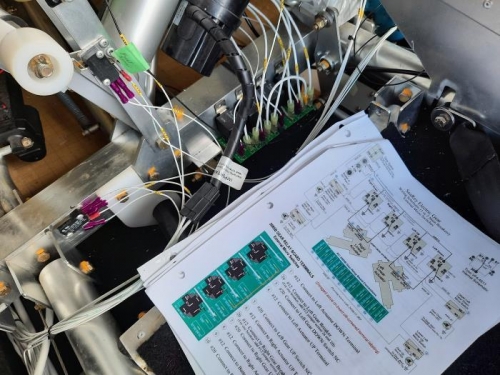 Incorrect "corrective" instruction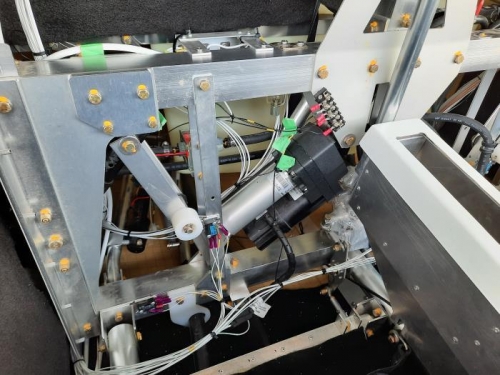 Finalized installation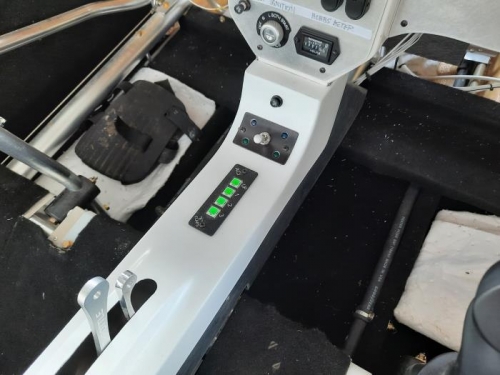 Up-down Switch & LED lights
Previous Builder
Next Builder