Previous Builder
Next Builder
Date: 01-21-2015

Number of Hours: 0.00

Short Description: Heating pad on engine sump


With the Northeast winter settling in, I added a heating pad to the VW engine sump to warm the oil and the block.

I chose a Kat's 24050 50 Watt 2"x 5" Universal Hot Pad Heater because it was lightweight and would easily attach to the side of the VW case. After filing off the molded information on the right sump area to provide a smooth mounting surface (image 1), the pad was attached with its adhesive backing (image 2). Hi-temp RTV was spead around the perimeter of the pad to seal the edges from contamination.

I mounted a power receptical from a computer power supply to the baffle plate just inside the nose cooling inlet (image 2). The AC cord can easily be inserted/removed without removing the cowling. To minimize contamination or water accumulation in the socket (not likely unless flying through rain or heavy blowing rain on deck) a plug "stub" can be plugged into the socket.

The pad is only 50 watts, so does not provide a lot of heat. With an ambient temperature of 35f, the pad temp stabilized at ~125f and the sump/oil temp was about 55f. A 20f rise should provide a reasonable startup temperature and reduce the warmup time prior to takeoff. A second pad on the left side might be even better. Because the max pad temp is only 125f, there is no problem leaving it pugged in for long periods.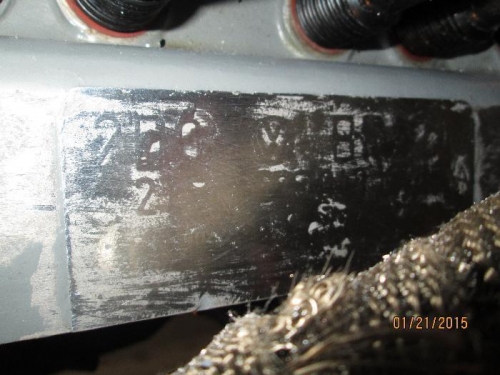 Case sump smoothed before pad installation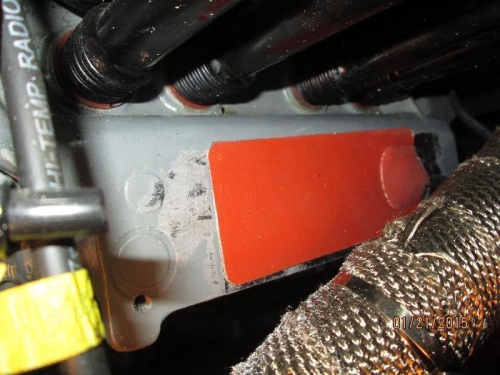 Heat pad installed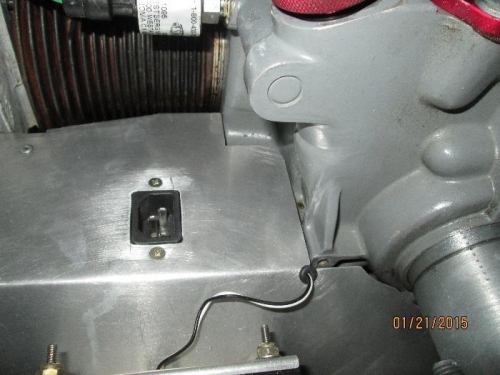 AC plug connection.
Previous Builder
Next Builder