Date: 08-30-2014

Number of Hours: 0.00

Short Description: Flight #29, Fuel @7000'DA 3000rpm, 2:39

Flight #29 was to determine fuel flow at 5500'-6500' PA, 3000rpm. Actual conditions were a DA of 7000-8000'.

Flew generally along the coastline of Cape Cod to reduce turbulance.
AWOS at KPYM 190/06, V10, Clr, 23c/11c, 30.26, DA 700. TAC time 2:39. Total TAC time now at 30 hours.

At 6500' PA, IAS 101mph, OAT 18.8c, OP 50psi, OT 195f, CHT #1 - 380F, EGT #3 - 910F.

Calculate TAS 114.7mph, avg DA 7500', 3000rpm, fuel flow 4.2gph.

Vis was at least 65 miles. Could see Boston, Providence, Block Island, Nantucket and Provincetown.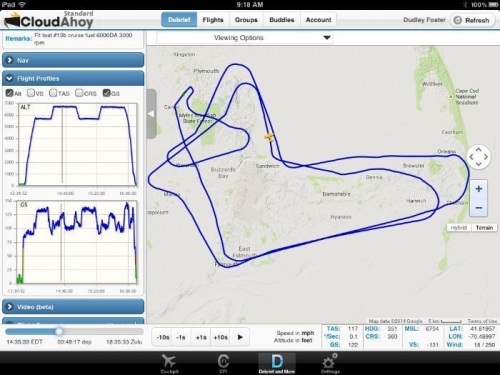 Cruise 5500'-6500', 3000rpm