Previous Builder
Next Builder
Date: 09-10-2017

Number of Hours: 2.40

Short Description: Battery mount (cont)


My goal in this session was to fit and finish the components to see if they all mate together as intended. The good news is YES no glitches or gotchas(at least that have popped up yet!). After checking the fitting I removed the assembly in order to replace a couple of bolts in the gear tower that I would not be using for attaching the rear angle. I also made it a point to turn the bolts around so that the lock nuts are on the outside of the gear tower at the locations where the nuts interfere with the landing gear bolts.

Next I put the mount assembly back into it's location and assembled the rest of the battery tray and mounts to complete the operation. Everything fits as planned and intended. I put the "dummy" battery I scrounged from Chuck at Concorde during Sun n Fun and I think the location will be excellent. The bolts that are holding the battery tray to the inboard attach angle will be using nutplates, but I have not installed them yet until I finish the parts and coat them.

The only thing left to do is drill the locations on the two ends for the battery tie down clamp.

My friend Jim mentioned to me that I have almost 45+ hours on my battery project....WOW! Anyway I am almost done.....going off print will usually always add time....so I figure if it takes 10 hours to prep and make the mount by print....then it probably took me 3-4 times longer making my own
design.....thats why EAB is so great!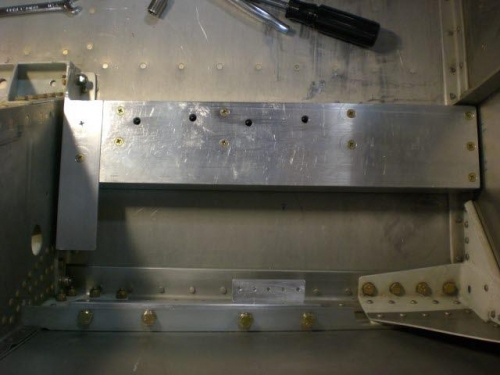 Final fitting of mount and rear angle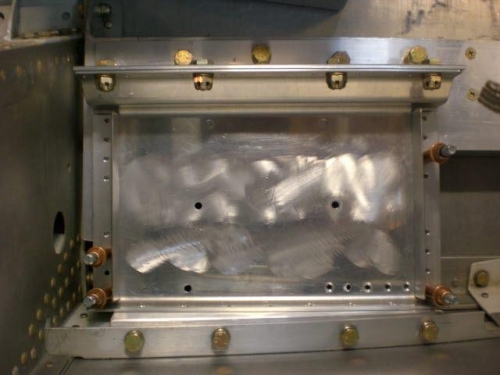 All components assembled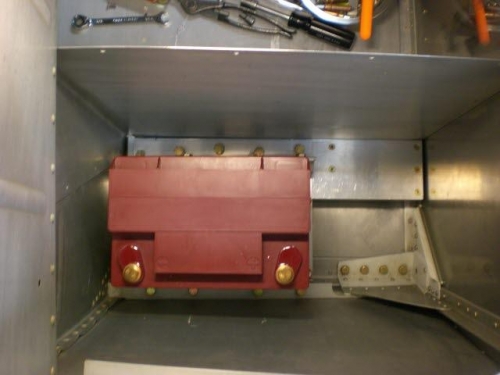 OK.....I know I am bias but I LIKE IT!!!
Previous Builder
Next Builder