Date: 06-15-2019

Number of Hours: 7.70

Short Description: BIG PAINTING DAY


Ok....humidity is low and weather high temp will be 84 degrees. I planned to paint yesterday but the winds were gusting to about 30 mph. Even though I would be painting in the back shop I open the door enough to be effected by such a wind so I postponed till today, besides wanting to have the Mid Cabin Covers ready and a good forecast for today.

A painter I am not, but if it is to be painted.....then paint I must. Fortunately my friend Jim told me about Stewart Paint Systems way back when we first started doing these projects. The water based poly paint has been great for my large learning curve and the fact that I am not cleaning up with solvents but water is really great. Having done the interior fuselage and some other parts I am more confident on how to use it, but still make some mistakes. But thats why its amateur built right?

Anyway, I got all the parts wiped down and hung in the shop and staged for starting the paint shoot. I got myself ready and mixed paint. I had decided to order another quart which was really smart because I used over 2/3 of the can! I have had to throw good paint away in the past so I was being more conservative on my batch mixing....I really underestimated because I mixed a 450gr / 255gr / 198gr batches. I had about an ounce left from the last batch.

It worked well that I could go through all the parts without losing tack on the paint. In the end I got all the parts done and have about 6 small runs that I will remove over time. All in all a good paint session.....but lots of time and work. I should be really done the topcoat painting for the most part other than the skirt of the canopy....I am probably going to pull down the temp paint booth in the shop. I am NOT painting the outside of the airplane....that will be paid when I get to that point.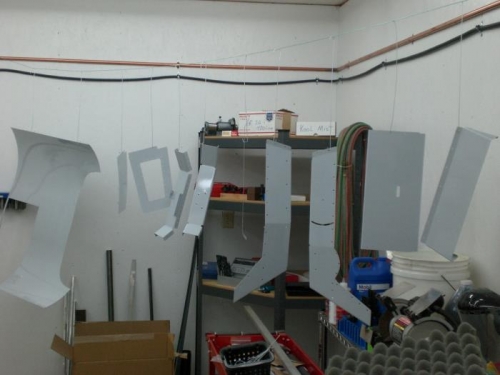 Part stack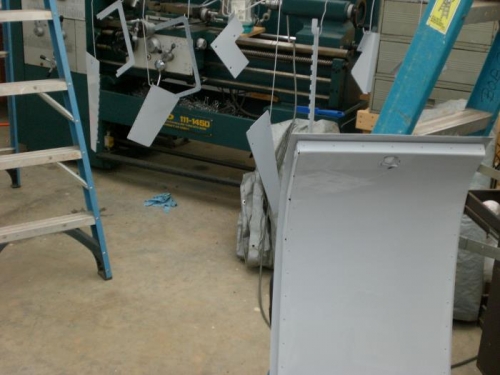 Other part stack