Date: 07-21-2017

Number of Hours: 4.00

Short Description: Oil filler door & control surface tips


I took the afternoon off to get some things done at the hangar today since I'll be out of town tomorrow. I can't afford to lose any time on this project for the next several weeks as I'm trying to get all of the work done and schedule an inspection sometime in late August or early September.

The oil filler access door required a little bit more work, so I started there. I had already cut the door and hinge to fit, but once I inserted the pin and bent it down on both sides to secure it, there was a little interference with the cowl on both sides. After filing a little bit away, the door opened and closed smoothly, so I did the final trimming and then made two shims to rivet between the hinge and fiberglass to lower the hinge just a bit and keep it flush with the cowl. That done, I riveted it in place and moved to the cam locks that secure the lower side. Once installed, I found the aft cam lock to be a bit stiff, so I might need some minor adjustment, but otherwise that part of the cowl is done.

I spent the last two hours working on the control surface tips. I was able to get the lower rudder tip completely installed, but the others needed a bit of sanding and some aluminum reinforcing strips added to keep the rivets from pulling through over time. I'll finish those up during the next session. When I was installing the lower rudder tip I also added an Adel clamp to the aft bulkhead to hold the tail light wires in a position to minimize movement when the rudder swings. This also required slotting the access hole a bit more, but now there is clearance at the rudder limit on both sides.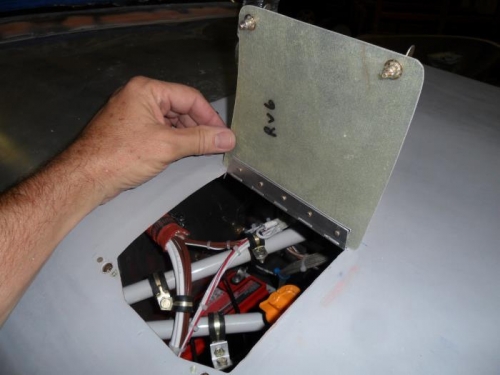 Open...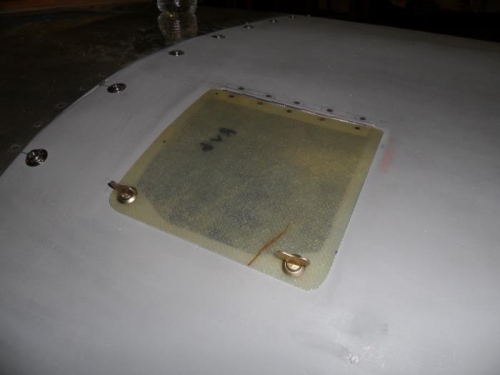 ...and closed...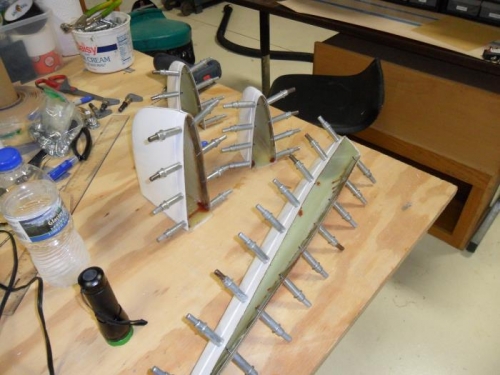 Reinforcing strips epoxied in place