Previous Builder
Next Builder
Date: 02-24-2018

Number of Hours: 6.00

Short Description: Fairings & seat heat installation


This weekend I focused on the gear intersection fairings and seat heat. The last intersection fairing to fit was the lower left, which required removal of the left wheel pant to install the necessary nut plates. While the parts were off, I added a layer of epoxy flox to the two places where the wheel pants attach to the gear bracket. This serves to reinforce the attach point, and also to level the curve of the fiberglass at the attach point to make the bracket fit better. I then removed the upper intersection fairings and after a little more trimming, applied a thick coat of micro epoxy to all of them. After curing overnight, they were ready to install and go fly…lots of sanding and priming left, but for now they will work to finish my phase 1 flight testing.

While the epoxy was curing I worked on the seat heat system. I had previously installed a 12-volt DC switch in the panel for the seat heat and USB charger, so "all" I needed to do was to run some wire back to the seats and connect everything. After contemplating all of the options, I finally elected to run some conduit under the right canopy sill and install the switches in the main bulkhead aft of the seats. As these required two ¾" holes, and needed to be easily accessible from the seats, that location was about the only place I could make work. I also installed a terminal block in the aft portion of the flap tower to accommodate the wiring connections. Sounds simple enough, but the whole process took about five hours and made a complete mess with aluminum shavings everywhere. Add to that the lack of access (typical on this project) and it was more than a little frustrating at times.

After getting everything finished up and the interior reinstalled, I got in three test flights on Sunday and crossed the 30-hour mark in the test program. With a little luck and some decent weather, I should have it signed off in about two weeks.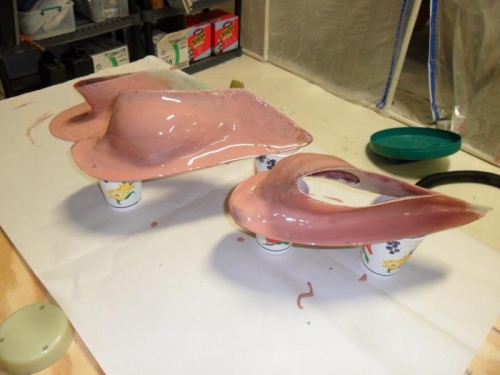 Modified intersection fairings getting a coat of epoxy
Previous Builder
Next Builder