Previous Builder
Next Builder
Date: 02-11-2018

Number of Hours: 6.00

Short Description: Aileron trim & misc fiberglass work


This entry actually includes all of the work done over the weekend, and probably actually represents about 12 hours of work, but it's a bit depressing to see the limited progress on some of the finishing tasks that I've been working on, so I'll only take credit for about half of the time. Yes, I'll admit that I've gotten a little complacent about logging the exact time for the build process at this point. After 12 years, can you blame me?

This weekend's work included lots of sanding and fiberglass work on the intersection fairings, sanding the upper cowl to even out the aft edges as they curve down the sides, and making a scarf joint to extend the aft edge of the lower cowl. Every time I think I'm closing in on the end of fiberglass work, I realize how much lies ahead. I still have to pull the wheel pants and gear leg fairings in order to fill, sand and prime…it never ends.

I also spent a couple of hours working on installing the aileron trim. This involved pulling up the floor panels, so while they are out I will also install the crotch strap (don't go there…) brackets and run wiring for the seat heat & 12-volt dc power supply. The aileron trim is a simple spring-loaded mechanism, but the location of the handle will necessitate moving my fire extinguisher…not sure where that will go, but probably on the fuel pump cover to ensure it remains easily accessible. Hopefully I can wrap up the under floor work by the end of next weekend and get at least one flight done.


Scarf joint preparation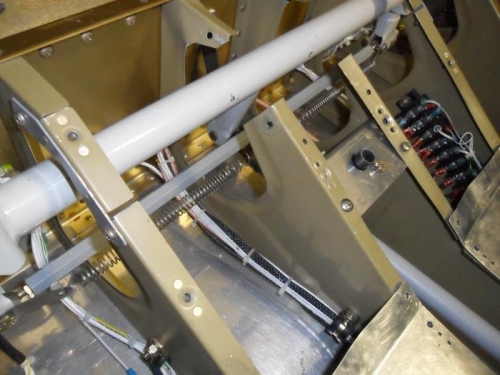 Aileron trim installation
Previous Builder
Next Builder