Previous Builder
Next Builder
Date: 09-17-2017

Number of Hours: 2.50

Short Description: Misc finish work


Today was a short session before I head up to Minnesota and do some RV-7A transition training in preparation for my first flight. I checked a bunch of little things off the finish list, to include:
• Installed the cabin heat cable and attached it to the firewall manifold. This involved drilling a #10 hole in the firewall vertical support where the cable passes through, and securing it with an Adel clamp just prior to the attach point. Ops checked good mechanically, now we'll have to see how much heat it provides.
• Attached the upper firewall cover that is shown in the picture, with that, all of the covers in the cabin area are either installed, or at least fitted, and those will remain off until after AW inspection.
• Terminated and installed the autopilot "push to level" wires.
• Tightened the backing nuts for the throttle, prop, mixture, alternate air and cabin heat cables.
• Drilled drain holes in the bottom of the intake snorkel and lower rudder fairing to allow any potential water to drain.
With that, I'm down to the final checklist items forward of the firewall—delayed until magnetos are back installed. When I get back from Minnesota I will hopefully be able to get those done in a couple of long sessions and schedule my inspection.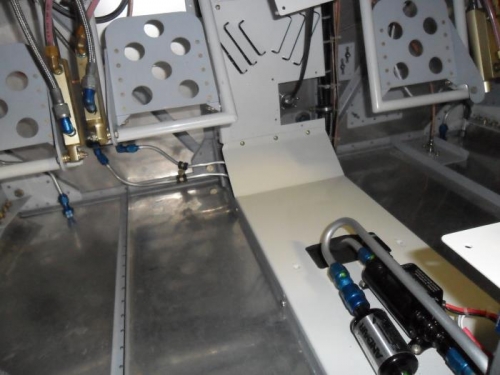 Forward firewall cover installed
Previous Builder
Next Builder