Previous Builder
Next Builder
Date: 11-12-2017

Number of Hours: 4.00

Short Description: Interior and cowling


I spent a few hours before and after flying to continue the finish work on the RV. The rest of the interior went in without any problems and looks great! I highly recommend the product from
Classic Aero to anyone reading who is thinking about interior plans.

Now that the interior is in (at least for now), I will start thinking about how to finish the bare/primed metal to get an overall completed look. I wanted to wait until the interior was installed to avoid painting areas that would be covered. I'm glad I did, as it looks like there really isn' t much to paint. Once I determine the areas that need painting, I will pull out the necessary parts of the interior and mask the rest. Right now it looks like some touch up on the aft upper skin, the top of the rear baggage bulkhead, the center cabin bulkhead (very green and obvious), and some parts along the forward, top cabin section. The final area will be the underside of the glareshield...that will probably just get painted a flat dark gray to minimize reflections.

The cowling work continues with some filling of obvious gaps in the forward nose section. These gaps were due to my enthusiastic trimming during initial fit. This is the easy part, so I thought I'd get started there. I will have some fairly extensive filling along the lower aft edge, and am going to have to devise a plan for the upper aft portion on the right side where I have some fairly obvious gaps due to the fit of the camlocks. And then there is the whole issue of the left intake and the mess that is...lots of work left for some cloudy winter days.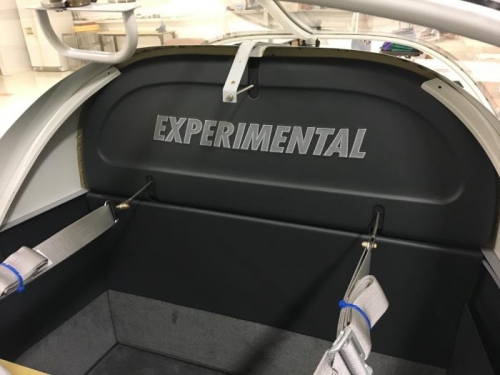 Baggage area interior installed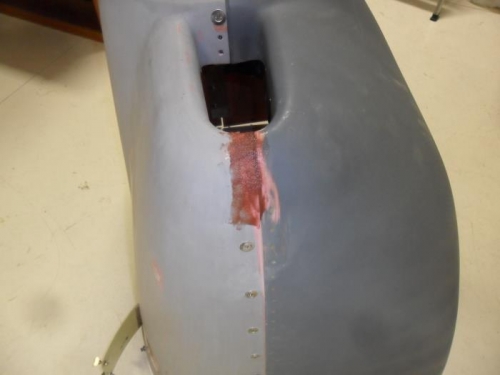 Starting the cosmetic work on the cowling
Previous Builder
Next Builder