Previous Builder
Next Builder
Date: 05-20-2018

Number of Hours: 4.00

Short Description: Finishing the Wings

Got the drill bits and drilled out the various holes for the pitot lines and the AOA lines. Also installed the rest of the bushings. Pulled the lines through. Also added wiring for the fuel level sender and the stall warning. I had put them into the wiring conduit but decided to to pull them out of that so that only the strobe/light/landing light wires will run through the conduit.

Replaced the left wing on the stand and moved the right wing to the table. It only took two hours to rig the control rods and rivet on the flap brace. Then Luke helped me move the wing back to the stand.

The wing bottom skins are cleco'ed in place. I will not rivet them until after the pitot tube and the autopilot parts are installed at a future point in time.

Pitot Lines/AOA Lines/Wiring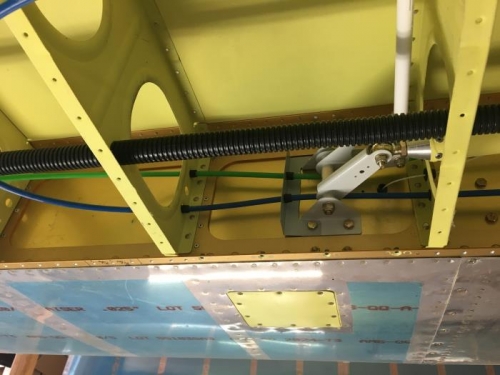 Pitot/AOA lines under bellcrank
Right wing
Previous Builder
Next Builder