Previous Builder
Next Builder
Date: 11-21-2020

Number of Hours: 4.00

Short Description: tank sloshing


With the wings on the plane at the airport, I was calibrating the left fuel tank (by adding incremental volumes of avgas) when the tank began to leak fuel at a decent pace (1drop/5 sec). With the dihedral, the fuel made its way to the wing root and dripped off the lower skin onto the concrete but it seemed to be coming out of the seam where the tank skin meets the forward (main) spar. At the Murphybuilder's site, there were divided opinions on how best to tackle this: some advocated sloshing, while others said open the tank and apply more proseal. There were even some who maintained that sloshing the tank was tantamount to asking for a fuel line obstruction at some point in your flying adventures.

Craig Walls noted that he had sloshed his tank with the same compond that Enson helicopters uses on their integrated fuel tanks. Si Smith responded to one thorny email decrying sloshing by simply writing: "Worked for me, and that was over 700 hours ago"

Surely this was cause to investigate this option further?

So I reached out to Si, and we spoke for an hour on his experiences. He made it clear that 3M's EC-776 is the only product to use.

So for $68 (+$30 shipping) I had the material ordered and got the wing ready so I could manipulate it single-handedly. I was concerned (rightfully) that it might be tough for me and a buddy to suspend the wing at odd angles for several minutes in each position to allow the sloshing product to flow into all the seams. So in image 1 you can see the rudimentary pulley system I devised to hold up the wing root. Added the comound and proceeded to tilt the wing in different directions and leave it in each position for 1-2 min. When all was done, I retrieved about 3/4 of the quart I dumped in.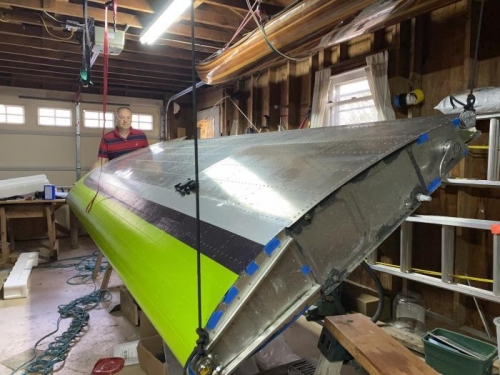 wing pulley assist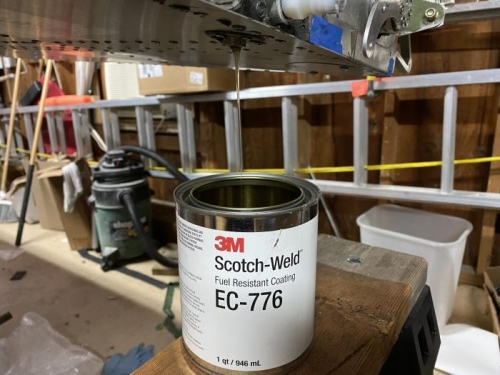 sloshing compound
Previous Builder
Next Builder