Previous Builder
Next Builder
Date: 08-24-2022

Number of Hours: 4.00

Short Description: GPS Antenna Bracket Adapter


Fabricated an adapter from flat aluminum stock to mount between the IFD-440 GPS antenna bracket and the fire wall. The adapter is configured in such a way that it moves the antenna up about 3/4 of an inch. This will hopefully improve the reception of the IFD-440 GPS receiver which worked fine in level flight but would lose position in turns. Moving it upwards should give the antenna a better line of sight to more satellites.

After reinstalling the antenna/bracket in the new position I moved the airplane to the ramp and powered up both the IFD-440 and Dynon GPS. The Dynon GPS antenna is on the top of the aft fuselage skin under the canopy, with a clear line of site to the sky and works well with no dropouts so that's my baseline I'm trying to match for the IFD-440. With the upper cowl off both GPS units picked up 8 satellites. I then put the upper cowl back in place and there was no change in performance. In fact, at one point the IFD-440 picked up a 9th satellite before the Dynon did.

So, I'm hopeful that this will resolve the IFD-440 GPS dropout issue in turns. I'll find out when I get a chance to test fly the airplane.

Update: I test flew the airplane the next day and had no GPS drop outs.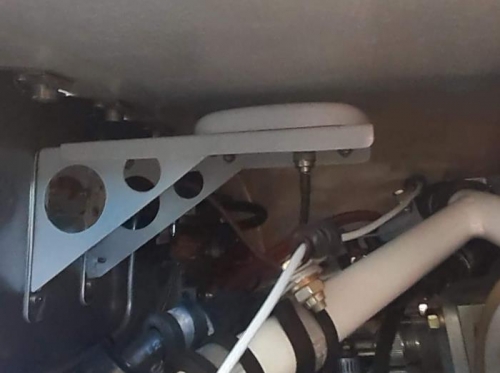 Previous Builder
Next Builder