Date: 07-10-2019

Number of Hours: 7.00

Short Description: Full Size Ribs and Nose Ribs-ish

This has been a few days combined. Lately it's been around 105-115F out each day, so I'll work for a few minutes here or there on things. I had a bit of a hump with the nose ribs. Seems my formblock for the nose was distorted and I didn't catch it before I traced out and rough cut a lot of the pieces. I think they might still work fine, but I decided to set them aside for a bit and work on something different. I decided to tackle the two full size ribs required, so I cut them out (after ordering $400 in aluminum). I rough cut them out, then drilled the jig holes on them both. Then I marked and drilled the pilot holes for the lightening holes. One router with a circle template, three bits, and half a can of WD40 later, I had the lightening holes cut out and the rib ready for final trimming and flanging.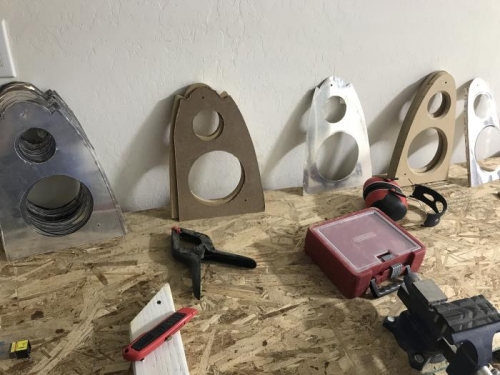 Nose ribs in assembly line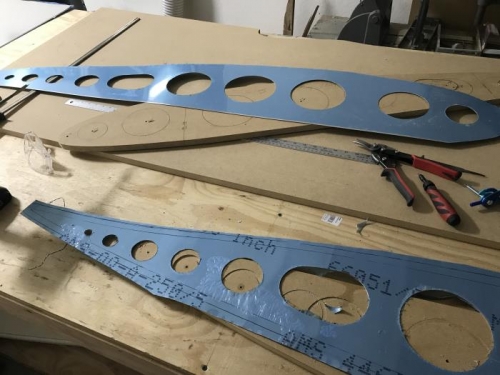 Both full ribs cut out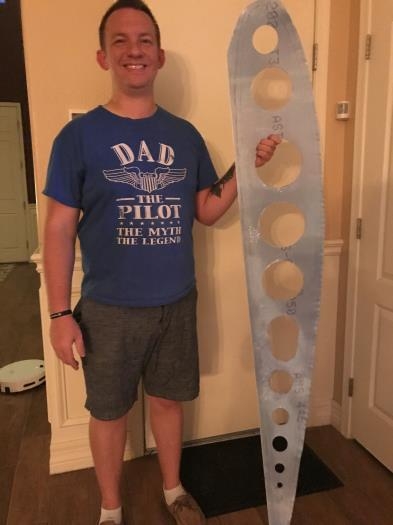 Standing next to the full size rib. Ignore the white socks, I was in the shop...