Date: 12-07-2019

Number of Hours: 2.30

Short Description: Baggage Area Lights & Seat Backs

I modified the seat back closeout to accomodate two LED lights and associated switch for the baggage compartment. I previously fabricated mounting plates the for lights and switches that installed to the inside of the closeout. The only problem is future access in the unlikely situation where either the lights or the switch fail. Drilling out all the closeout pop rivets would be a PITA. So, I separated the closeout into three pieces. Each end piece either accomodates a light or a light and switch. The end pieces will be permanently mounted via pop rivets as per plans. The center piece will be removable and held in place with #6 pan head screws. I mounted the twenty #6 nutplates, separated the closeout and reprimed. The next step if topcoat and then mount.

I also began assembly of the rear seat backs. I fabricated the four 3/4" support angles.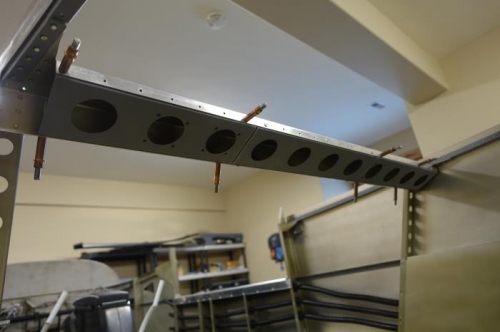 Lights and Switch aren't mounted yet but you can get an idea of the closeout separation.