Previous Builder
Next Builder
Date: 02-10-2019

Number of Hours: 8.00

Short Description: Rear Longerons


I built the rear longerons and exterior doubler plates. The inner longerons have to be ground down to fit inside the outer angles, and the outer angles have to be cut away to allow the inner pieces to mate to the spar. The weels come off the wagon, however, when it comes to mating the parts together. Given that the spar to fuselage attachment isn't too critical, it makes sense that the plans don't call out the hardware used here! (That was sarcasm.) I posted to the builder's forum with no response. I contacted the aircraft designer, and got the following from Mr. David Thatcher:

"Sean,

On the material list you will see various size AN3 bolts, order all of them listed. Then chose the length bolts that will fit the parts that you are assembling. You should have about three or four threads showing through the nut. The nuts are AN365-1032.

Best regards,

Dave"

Now, plan sheet 2 has these parts assembled, but the doubler that overlays the skin in this area and through which the main gear is bolted is described on plan sheet 20. And on sheet 20, no bolts are shown passing through the doubler! I'm going to chalk this up to 'bolts missing on the plans.' Next up is determining how to assemble said parts.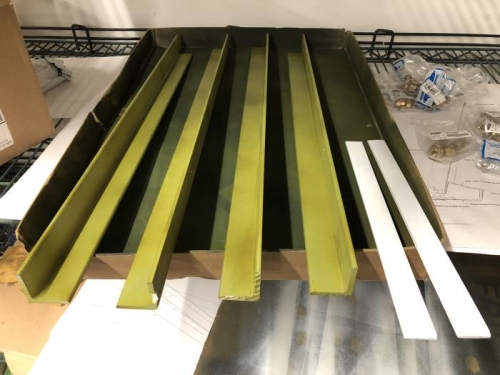 Previous Builder
Next Builder