Date: 04-22-2018

Number of Hours: 1.00

Short Description: Drill main spar

Set the wing up so that it was level front and rear to ensure no wing twist.

Drilled all 98 or so pilot holes to #40 thru all skins and into the main spar.

Removed every other cleco and up-drilled those holes to #30. Then up-drilled those same holes to #20 in preparation for the A5 rivet that will go there.

Unfortunately, I ran out of cleco's. I need about 48 of them, but if I maintain the as-per-builders-guide spacing, I shouldn't remove some of them from the nose ribs, etc.

I can get some by Tuesday, so perhaps tomorrow I'll play with the trailing edge skins.....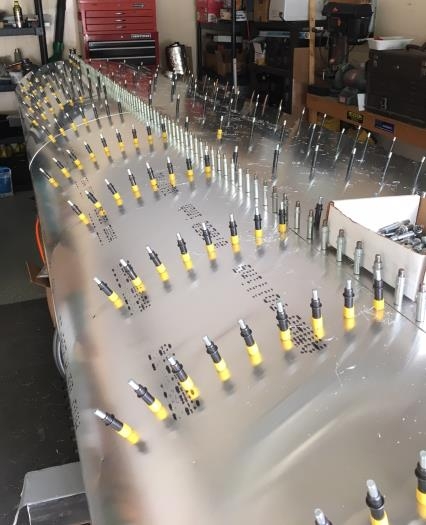 Silver clecos = main spar drilled to #40