Previous Builder
Next Builder
Date: 08-15-2019

Number of Hours: 2.80

Short Description: Prepping Main Landing Gear


Continued painting rough spots on engine mount and upper instrument panel cover. *sigh* Still have obvious spray can patterns on the upper panel. Dunno what to do....

Installed the mail landing gear "saddles" on each side of the fuselage. These were prevsiouly fit and up-drilled, but now we're getting closer to rubber on the road, so to speak. In addition to using the side-fuselage clecos and inside the fuselage clecos, I also installed the AN3 hardware on the inner gear channel, visible in pic 1 below. Have not riveted or bolted anything together. 100 deg and relatively high humidity such that I was completely sweat-soaked.

My helpful helper and I test-fit the MLG leaf spring into the saddles and it jsut about fit. Had to remove the leaf and file a bit more in the notches that go around the 1/2" bolts hanging down in pic 1 below.

Test-fit the brake calipers. This is a known issue with the 750 MLG. The calipers are of the sliding type, so the caliper cannot be impeded by the leaf. Pic 2 below shows the corner that must be filed-down to allow the caliper to slide. Used a bastard file (technical true name) and filed down each side. Cleaned 'em up with a medium then finer file.

Lastly, there are two gear retainers that fit under the MLG leaf and rubber cushions. Pic 2 shows the before and after views. One must identify the centerlines of the two 1/2" bolts in pic 1, mark 'em on the centerline of the 1.5" side of the angle, drill up to 1/2", then trim to overall length using 20mm from the center of each 1/2" hole. They fit!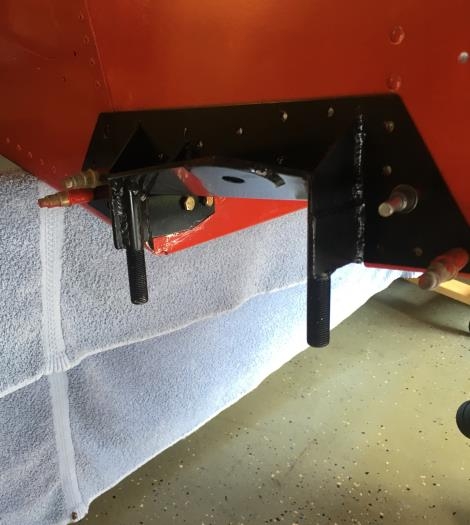 In position for testing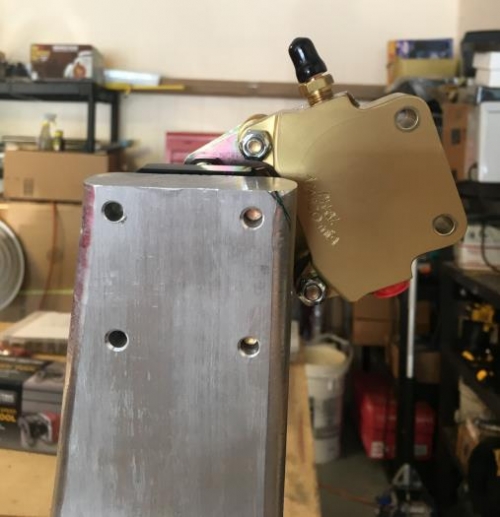 Must trim MLG edge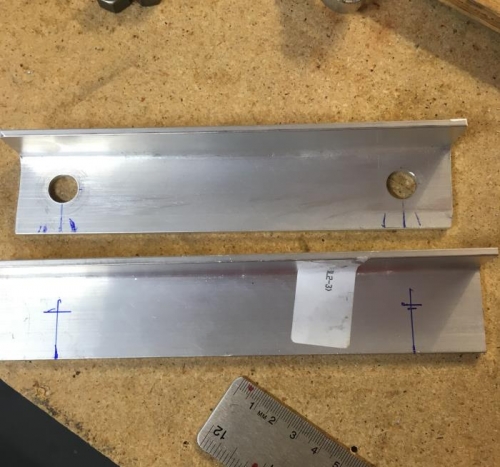 Landing Gear Retainers
Previous Builder
Next Builder