Date: 10-18-2018

Number of Hours: 2.30

Short Description: Leak test fuel tank, rivet top skin,


No rain today, so the wife's car could be moved out into the driveway, allowing the wing to be finished.

I was concerned about the fuel sending unit leaking fuel; I had tested it during tank installation, but a few weeks ago, I took a picture of the sending unit to show it's position to another builder. I had noticed some traces on the tank that looked like it had been leaking; the sealer is a non-hardening sealer, and I thought that some condensation perhaps caused the runs. But, I didn't want to get the wings all mounted and THEN determine the sending unit was leaking fuel. So, I propped-up the trailing edge of the wing and added 5 gals of gas to the tank. Using a dip stick, I determined that 5 gals basically took the tilted level to the top of the sending unit. I let it set for an hour, and no leaks! yay! Draied the fuel back into the storage tanks.

I then proceeded to rivet the top fuel tank skin and the last rib edges that held the skin attach angles. I cleco'd the upper root skin in to position (remember - not riveted until final installation) and my son helped me move it into the wing cradle.

On to the fuselage!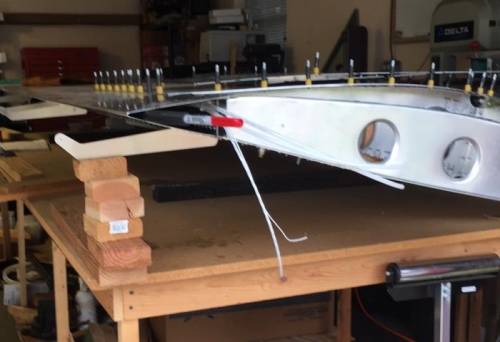 Angled wing to concentrate gas near sending unit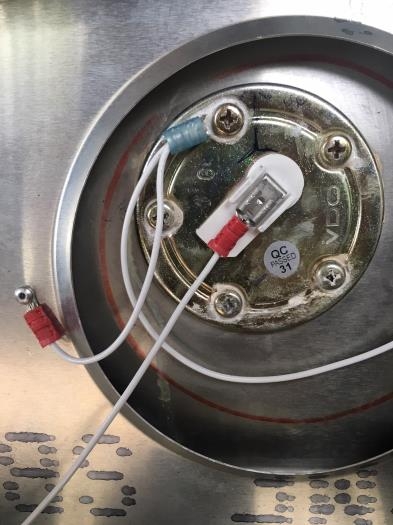 no leaks!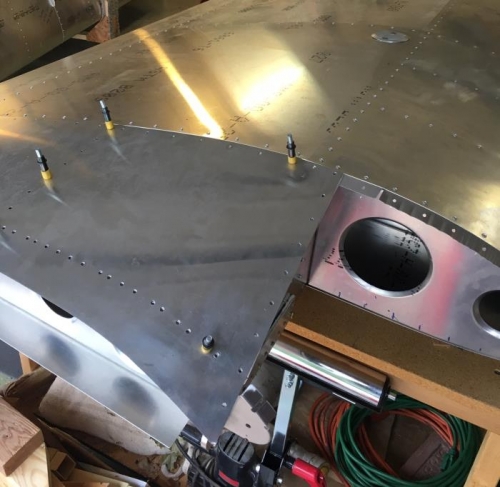 Upper tank skin and leading edge skin angle riveted