Previous Builder
Next Builder
Date: 05-05-2018

Number of Hours: 2.00

Short Description: Final drill and countersink front spar doubler


I managed to get in a couple of hours of building after getting back from the Chino Planes of Fame airshow. I even managed to connect with a couple of people I haven't seen for a few years that I thought still had hangers at the field. There is a lot of homebuilding activity at this airport. I talked to a number of Vans builders and got some understanding from them about what's ahead in my build.

Once back home I picked up where I left off with the front spar and doubler. The doubler is clecoed into place and all holes are final drilled. I used my drill guide to help keep the holes perpendicular. I wasn't using it much earlier, but it makes sense to use it when possible. It just takes a little getting used to right technique.

There are several holes that don't see a drill yet. These holes will eventually become the attach points for the ribs. Some of the holes get a countersink and the plans want to you drill a couple of the holes with a drill press. I marked which holes were which with a lead pencil (kidding! never use a pencil on aluminum unless you want corrosion), er, Sharpie.

The countersinks are necessary in those locations because that's where the stabilizer will mate with the tailcone.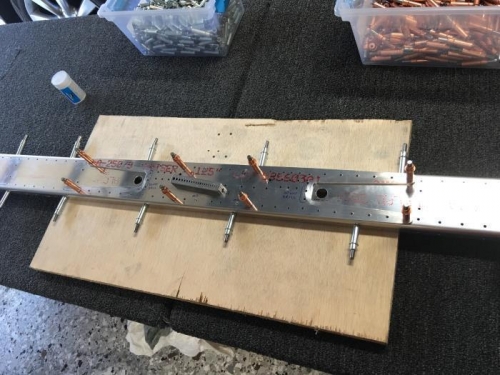 Final drilling all the holes common to the doubler and spar web.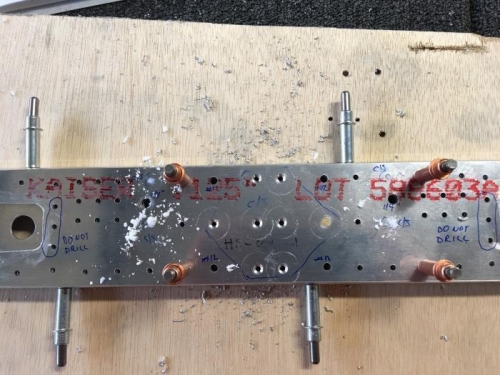 Part marked for hole size and which holes get a flush countersink.
Previous Builder
Next Builder