Previous Builder
Next Builder
Date: 06-15-2018

Number of Hours: 6.00

Short Description: Final Rivets on Horizontal Stabilizer


The final rivets were set over the course five days. I managed to do a little bit every night and waited to collect them in this post.

There are 168 rivets on the edges of the HS and all of them are reachable with the squeezer. I still managed to get a few bad rivets that had to be drilled out. The worst one was common to the skin and the rear spar near one of the hinge brackets. I bobbled the squeezer a little bit right at the moment of truth and the set was on only part of the manufactured head. The result was a rivet split down the shank. It extended up so high I used my high speed grinder cutting disk to remove the fastener and drilled out the rest of the shank. The shop head was flush with the spar cap surface.

I also found I had riveted in the inboard nose ribs on the wrong sides - left rib on the right and vice versa. It's important because there are several holes on the top surface skin that are not riveted. These are used to hold on the fairing. Fortunately, it wasn't hard to drill out those few rivets and swap the ribs.

I did have one nasty surprise on one of the rear spar holes c/t to the skin. I squeezed the AD3 rivet in place and it was very loose in the hole. I drilled it out and found the hole in the spar was a bit mangled and ovalized. It happened when I was countersinking the rear spar flange holes and got a bit sloppy holding the C/S cage perpendicular to the hole.

This was something for which I was prepared, fortunately. A while back I bought an "Oops" rivet kit. These are NAS1097 rivets that have the head size of a 3/32" rivet but a 1/8" shank. I drilled the hole out with a #30 drill and squeezed the NAS1097-4. It was a perfect fit and from the manufactured head side you'd be hard pressed to tell the difference.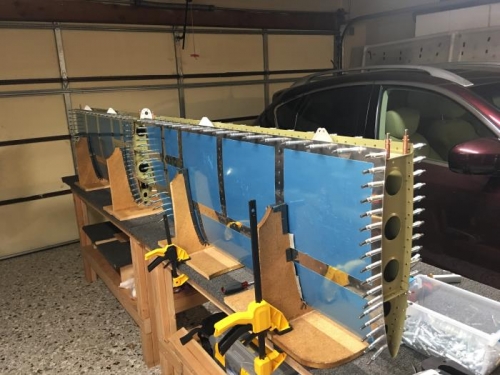 Almost done. Only the edge rivets remain.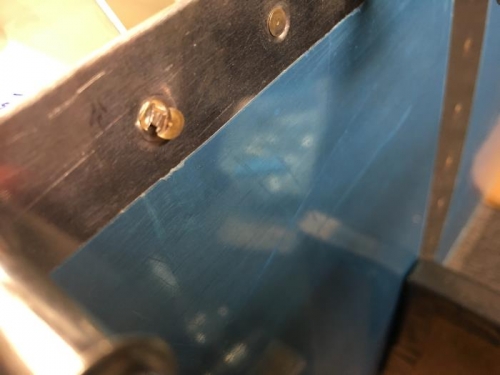 Badly mashed up rivet. This is what happens when the squeezer slips when you hit the trigger.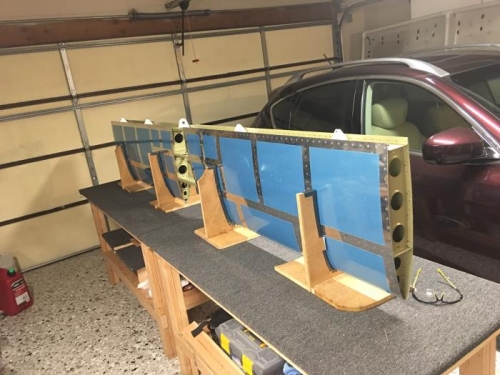 Section 8 is officially complete!
Previous Builder
Next Builder