Date: 02-27-2021

Number of Hours: 7.50

Short Description: Bond the canopy skirt to the plexiglass canopy and

Applying 3" pieces of acrylic as spacers taped the spacers about 2" apart. Applied the Sikaflex Adhesive with a triangle cut nozzel for the best seal. the 7 plex spacers clecoed to the skirt allows the alignement of the skirt to the canopy/frame.
Applied the large vice clamps with wood preassure plates to the skirt/canopy

Applied additinoal fiberglass and miro to control surfaces for closing the gaps between the fiberglass ends and aluminum surface.

After 12 hours I pulled the acrylic spacers to allow the Sikaflext to fill in the voids. Applied the inside fillet between the fiberglass skirt and bonded plexiglass frame.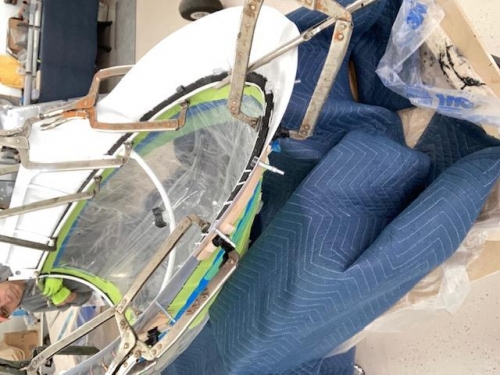 Vertical acrylic spacers in place with the large vice clamps in place