Previous Builder
Next Builder
Date: 06-03-2017

Number of Hours: 8.00

Short Description: Getting close to finishing the wiring


I believe I have been in and out of the aircraft 100 times in the last two days. Well what's done?

1. Image one shows what has been done, you just need to know where to look. To the left and right of the Garmin 400W, inline with the panel attaching screws are two momentary (NO) swtiches. The one on the left is the activate the transponder identification (IDENT) feature. That way I don't have to fine it on the main screen. The one on the right is the co-pilot pust to transit switch. 99.9% of the time the co-pilot (when there is one) won't be talking on the radios. But for the 0.01% there is a switch.

Dangling under the panel from left to right is; a large loop of multi-colored wires for sensors I am not using. This will be cut shorter and tied up under the panel. The yellow wire is for the dimmer function of the radios and the white loop is the co-pilot headset wiring. I am waiting on a washer.

2. Image two shows the area forward of the instrument subpanel only three more grounds to run and one harness and this is done.

3. Wiring harness creation in image three. There are two on my bench; the auto-pilot panel harness (it needs two more wires - 12' in length - to run from the AP-panel to the pilot's control stick from trim. Also on the bench is the EFIS battery backup harness. When those are done and installed I believe the wiring will be done.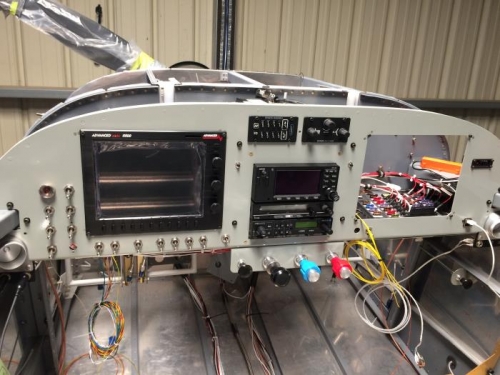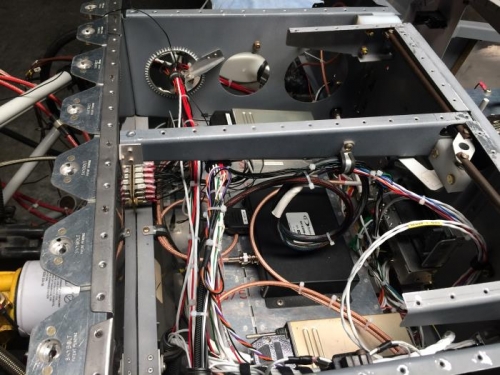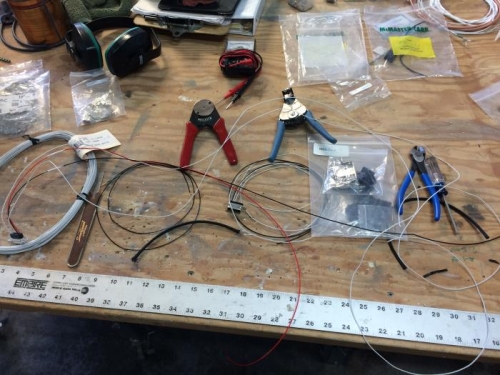 Previous Builder
Next Builder