Previous Builder
Next Builder
Date: 03-09-2019

Number of Hours: 6.00

Short Description: Elevator and Trim Tab Re-Installation


Re-installed the elevators using new HW, since I hope this is the last re-installation before flight. Started at the middle EL hinge, then moved to the outboard hinge, inserting the AN bolt through the hinge and rod end bearing, finishing with the washer and lock nut.

After both elevators were installed, installed the AN4 bolt that is in common with the EL horn and HS elevator bearing. The bolt required three washers per side (and per spec). Torqueing this bolt to spec was 'interesting' since there is little room for typical sockets.

Installed the AN3 bolt and two 1/4" spacers at the bottom of the EL horn in common with the rod end bearing of the EL pull/push tube, torqued to spec.

I did not previously make the EL trim tab with the required bend on the inboard side for the safety. Cut a hinge pin to length, inserted the pin into the EL hinge and marked the first bend location, then placed the hinge pin in the vise and use the rubber mallet to make the required bend. Re-inserted the hinge pin into the EL hinge bracket and marked the second bend location. Removed and re-installed in the vise, the again use the rubber mallet to make the second bend.

After making some adjustments, the hinge pin fit snugly against the aft spar web of the EL. Removed then re-installed with the EL trim tab. Drilled a #40 between the two inboard rivets in the EL rear spar for safety wire. Deburred and then safety wired the hinge pin to the EL rear spar.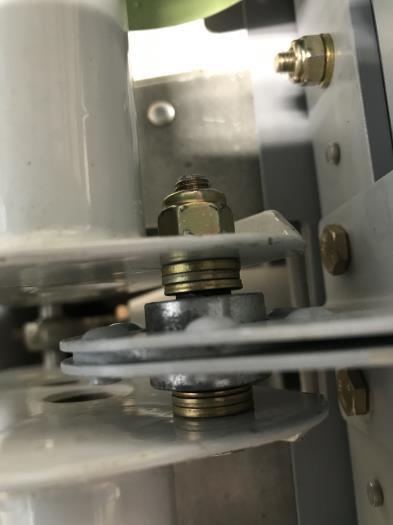 AN4 bolt with required washers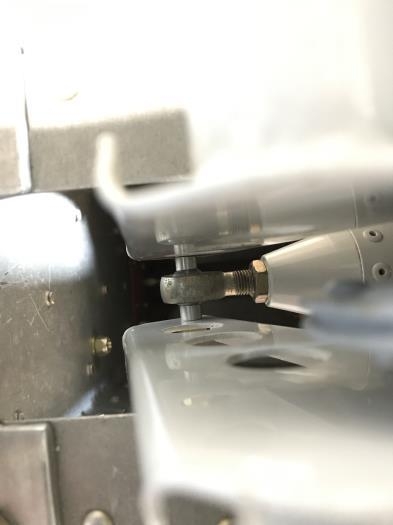 AN3 bolt with 1/4" spacers for Rod End Bearing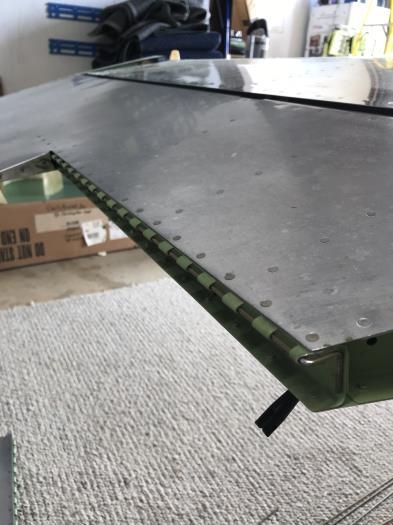 EL Trim Table Hinge Pin Fitting
Previous Builder
Next Builder