Previous Builder
Next Builder
Date: 01-21-2016

Number of Hours: 3.00

Short Description: Prop Flange Holes and Fuel Pump Mod


Modified the fuel pump to have AN-6 fittings. This required cutting of the intake barb fitting, drilling it out, updrilling, and finally tapping with 1/8 NPT.

Since the NPT tap in tapered, I was carfull not to tap the hole too deep to prevent the fuel fitting from bottoming out before the fitting it tightly sealed. I used "fuel lube" as a plumber's paste, and finger tightened both fittings. I then used a wrench to turn the fitting an additional 1 1/2 turns. There is still enough threads to be turned at least one more time.

After the installing the fuel fittings, I reinstalled the fuel pump.

Next I removed the old Loctite from the prop flange cap screw holes in the crankshaft. The Jabiru overhaul manual says to clean the threads by carefully using a tap. This seemed like it would be easy, after all, Loctite isn't metal...Well this 5 minute job ended up taking me the better part of an hour. I kept reminding myself that it's easier to extract a tap from a hole if you don't break it in the first place. It took a lot more torque and a lot twisting than I was expecting.

Fortunately I was able to complete both tasks without any mishaps.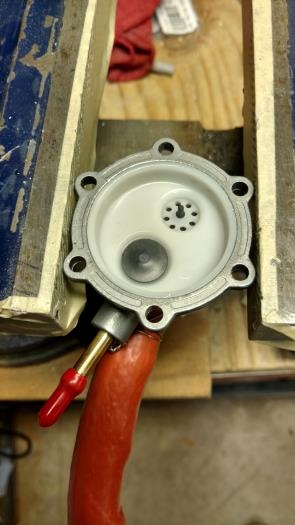 Fuel Pump Disassembled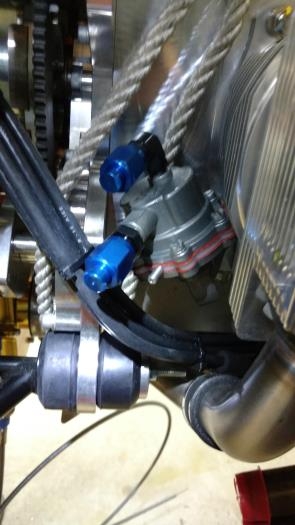 Fuel Pump with AN Fittings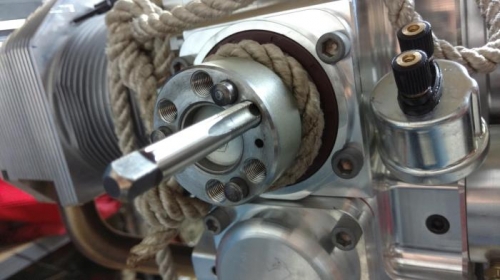 Removing Loctite
Previous Builder
Next Builder