Previous Builder
Next Builder
Date: 10-30-2016

Number of Hours: 3.00

Short Description: Modifying Engine for CHT Thermocouples

To my surprise, and disappointment the Jabiru engine I have wasn't designed with a place to mount the cyliner head temperature thermocouple. It may be that the designers planned on using an under the spark plug ring terminal, as many have done. However, it was found that mounting the thermocouple under the spark plug could cause inaccurate CHT readings.

Therefore, I modifed my cylinder heads per the Jabiru document AVDALSR085-1. This involved cutting and grinding the area between the spark plugs to allow for a small ring terminal to be attached to the head with a 5/32" screw.

The process required removing the spark plugs and the top head bolt. The spark plug holes were covered with duct tape to keep out the dust and swarf.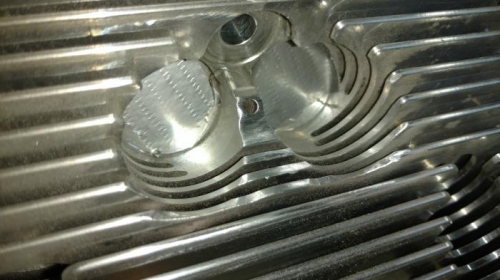 Thermocouple Mounting Hole
Previous Builder
Next Builder