Previous Builder
Next Builder
Date: 12-13-2014

Number of Hours: 8.00

Short Description: Turtle Deck


Today I spent some time organizing my garage, and gathering the needed parts for drawing F19, which is the turtle deck of the rear fuselage.

Once everything was in order, I bent two attach plates in my hydraulic press. They turned out pretty well.

I removed the rear fuselage floor, and put it back in storage. Then I flipped the rear fuselage right side up. This way I will be able to work on it from underneath since it is supported by two sawhorses. I have a rolling stool with an adjustable seat that works well for this.

I then cleco'd the two turtle deck skins together, along with a support beam. This was the easy part. Next I attached the turtle deck skin to the rear fusesage -- this was the hard part.

The turtle deck is sandwich between the side skins and upper longerons, and is bent in a semi circle. It was EXTREMELY difficult to get the first side started. I ended up clamping some wood to the inside of the fuselage to hold the the middle of the turtledeck way up in the air. This made it so the turtledeck skin didn't have to bend much at first, and REALLY made the process a lot easier.

I got the turtledeck positioned the best I could, and the fuselage doesn't have any twist according to my level.

My next still will be to add the formers, which are basically ribs, on the inside.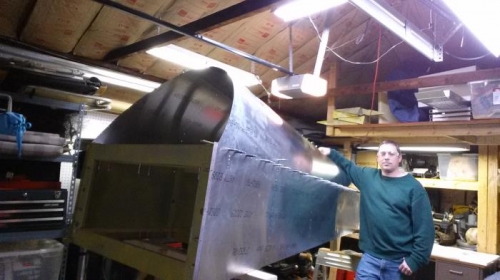 Turtle Deck Skin Fitted
Previous Builder
Next Builder