Previous Builder
Next Builder
Date: 08-13-2018

Number of Hours: 10.00

Short Description: Seat back tool box - fabrication


Designed and fabricated a toolbox (misc) for behind the seatback - either seat. To hold tools, travel supplies (oil), misc (chocks), and limited paperwork. Objective; minimum weight, secure from movement, accessible in/out of plane (not inflight), inconspicuous, as forward as possible for CG.

Used .025 Alum Sheet, 2024, and 3/4 x 3/4 Alum angle (.063), as much as possible from shop scraps. Attaches to cabin floor between seatback and flap control tube, leans forward to allow baggage access. Large door to allow good access without having to dig in a deep box. Removable by pulling out the two hinge pins - same as seat back design.

Weight is 3.0 lbs and CG/Arm is centered on crossbar behind seats, most forward location in baggage compartment space.

Capable of securing travel tool kit, supplies, with access to easily reach chocks, tie-downs, travel canopy cover, or sump drain fuel tester. Additional floor mounted hinge half-strip on co-pilot side would allow positioning either side. Behind co-pilot might be accessible inflight, and also add this weight to right side of plane for balance with lightweight passenger or when solo. (Survival gear currently behind co-pilot seat.) With design mod this "could" be attached to right floor in-place of co-pilot seat & cushions.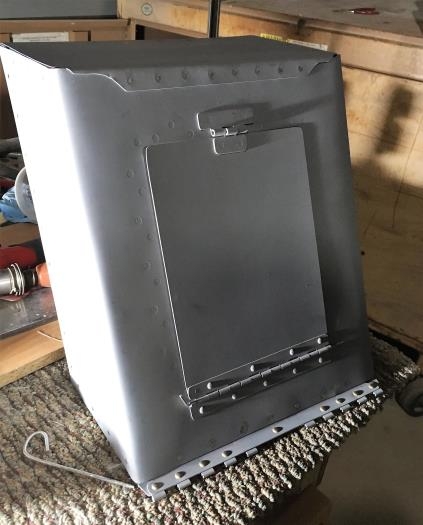 Completed box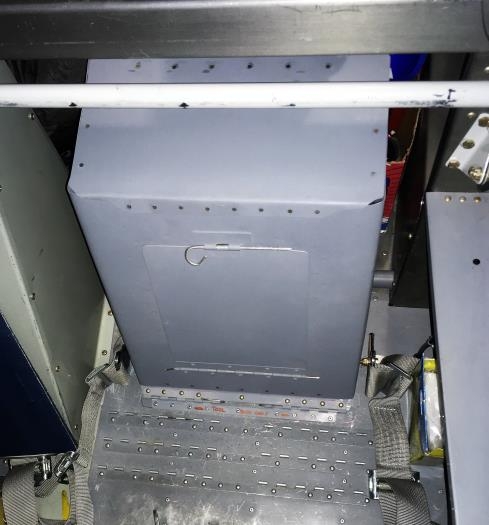 Hinged to floor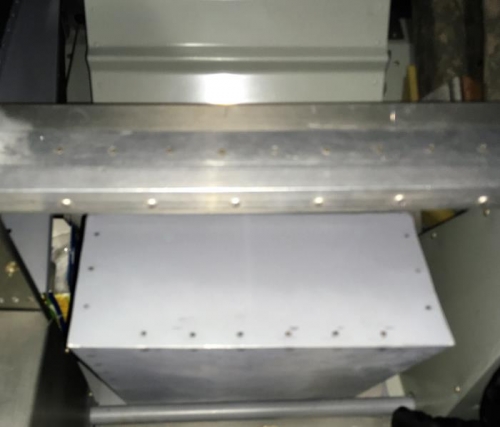 Top tilted behind crossbar
Previous Builder
Next Builder