Previous Builder
Next Builder
Date: 05-18-2013

Number of Hours: 5.00

Short Description: Wiring


Ok, I have a couple ideas that may work. The plan is to route the wires under the cross member that supports the rear baggage compartment panel. This is just above the panel where I mounted the fuse blocks and the encoder box. I began by taking a piece of plastic tubing purchased at the hardware store, splitting it lengthwise, and slipping it over the bottom edge of the cross member. This "shield" should protect the wiring bundles from chafing against the raw metal edge.

Next step was to cut some 2" pieces of conduit and split them so they could be slipped around the wire bundles. I secured the conduits with black cable ties at each end and then tied the bundle up to the cross member. When the white cable ties in the picture are snugged up tight the bundles will pull up slightly behind the cross member. That should give me enough clearance for all the instrument cases and radio trays (I hope).

I modified the wiring harness for my Narco VOR/ILS radio so it can be removed and/or installed a little easier. This was done by installing a harness in the airframe with a Molex connector to the Narco. The harness is relatively simple consisting of three wires, one for power, one for ground, and one for the dimmer circuit.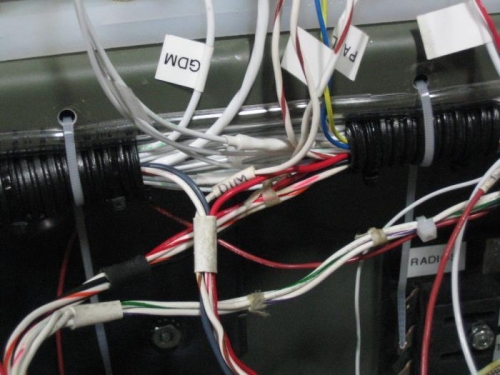 Bundle
Previous Builder
Next Builder