Previous Builder
Next Builder
Date: 02-17-2018

Number of Hours: 0.00

Short Description: West Virginia Farm


I should have been done with my RV-8 project a long time ago. However, I am continually diverted by other interests. Two of the big ones in the last 3 years was the Mustang project and then came the West Virginia farm. Purchasing the farm was one thing but then, of course, I needed a cabin to live in. So, Connie and I spent about a year getting a cabin built and furnished. As with the RV-8 project things got a little out of hand and the cabin project morphed into a little homestead including another nice workshop and garage.

In addition to building the cabin and garage there was considerable work just to get fences and gates in place around the farm as well as clearing brush and removing fallen trees from logging roads and old fence lines. I also spent a lot of time restoring some antiques that Connie wanted in the farmhouse/cabin. Oh, and then there was the time allocated to establishing a 100 yd shooting range and a hanging/skinning rack for the annual deer hunt! Unfortunately, there is not a place on the farm long and flat enough for an airstrip (a pilot friend reminded me that earthmovers are made for such jobs).

Now my problem is that I really miss the place and am spending more and more time in the mountains and less time in the hangar.

On the positive side, the farm is a great place for the entire family to gather for some relaxation. With all the modern amenities, the daughter-in-laws and grandkids even find the place comfortable, except maybe for the remoteness (no TV, limited internet and no cell coverage). I happen to like the limited technology!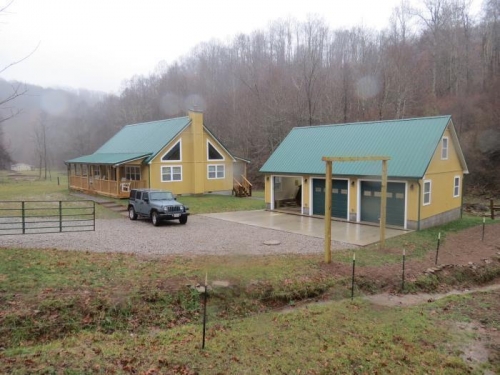 West Virginia - Almost Heaven
Previous Builder
Next Builder