Previous Builder
Next Builder
Date: 12-01-2020

Number of Hours: 5.00

Short Description: Most inboard skin

Before I can drill the fuel tank screw locations I need two more skins installed, both will have nutplates riveted to them. The most inboard skin and the bottom aft skin covering the area of the false spar to the aft spar. In the second image I have two rags laying on the false spar, so you will know what I am talking about.

The inboard skin wraps around the entire wing unlike the other skins. I cut a 12' slice of 8.5" 0.032 by hand and am quite happy how it came out. A little of the Zen of the moment getting it cut straight. Then it was just a matter of rivet layouts and drilling / clecoing rivet holes.

You might notice the outboard portion of the bottom skin is not drilled. That has to be done in conjunction with the tank bay cover.

Top skin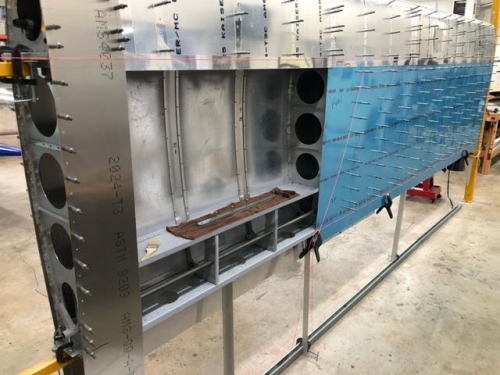 Bottom skin
Previous Builder
Next Builder