Previous Builder
Next Builder
Date: 08-10-2019

Number of Hours: 5.00

Short Description: Elevator work


Been a busy few weeks with work, now moving house.

Decided to get the elevator skins rivetted and reinforced prior to moving all the items, I will have to pack up the RV8 pieces over the next few days and pack away into specially built crates for storage and transport, I hope all my hard work will be protected.

Spent today finishing priming the internals of the elevators and the stiffeners, A lot of elbow grease to do the necessary prep to get the primer to adhere well to the inside of the skins, this includes a degrease, etch, and wash, followed by drying and then a tac clothe rub down to ensure there is no dust on the parts. I tended to rush a little bit and had a couple of small weeps/runs on the inside of the skins, non of these were under a stiffener so I was happy to let be at this stage.

Managed to get back into back riveting, the first few were awful and had to replace the rivets. Managed to get into the swing of things and really got them going in nice by the end. Still plenty more to do tomorrow.


Right Elevator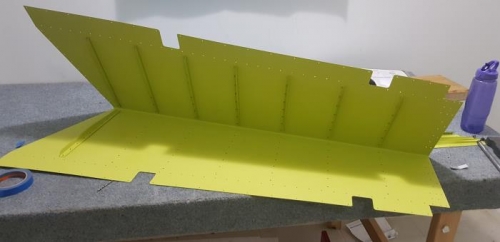 Right Elevator
Back Rivetting
Previous Builder
Next Builder