Date: 01-16-2019

Number of Hours: 5.60

Short Description: Mic/phone box, Engine Monitor, fuel lines


1/14/19
Received parts from ASS
2.0 Hours
Inserted grommet into hole in center consol to protect mic/phone wires. Decided to rotate the EMS module 90 deg. I didn't like the fact that the lower hold down screws would be interfering with the battery on the other side of the firewall. Drilled three new holes, using one of the old ones. Filed the opening for the intercom head so the screw holes would line up. Refined the holes for the transponder base. Brought the base home to make sure the screw heads would clear the transponder. They do.

1/15/19
2.3 Hours
Drilled a relief hole in corner of flang then using a Dremel tool and an X-acto saw, cut about 1 3/4 inch from cabin side channel flange on both sides to give fuel line a better bend radius and eleminate a low spot in line.

1/16/19
1.3 Hours
Deburred channel cut yesterday. Shrunk the heat shrink tubbing on power/ground wires added few day ago. Bolted transponder mount to inside of firewall.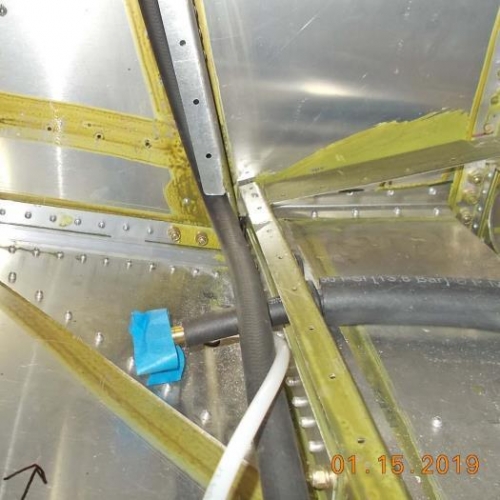 Bottom end of flange cut off