Previous Builder
Next Builder
Date: 02-11-2018

Number of Hours: 7.50

Short Description: Flap / aileron hinges and install


Used two each of 2" c clamps to clamp the 3 flap hinges and 2 aileron hinges in place. Inserted rod end bearing into wing and bolted it to the hinges. Almost messed this one up! The manual said to evenl space the gaps between the root rib, flap, aileron and tip rib and also pointed out to look at the drawings. I worked them back and forth and back and forth and got them where I was happy. Then I decided to read the plans/drawings since I would understand them better. It was a little hard to figure out the measurements of centering the hinges in the gaps (which are offset, not centered), but after checking and rechecking measurments, it started to make much more sense. I think I was only about 1/4" off the first time and maybe it would not have mattered, but one thing I noticed is that the offset allows the length of the bolt to be installed by a bigger gap on one side than the other (big gap pass the bolt in from that side, smaller gap gets the nut.) I then drilled and temp bolted all the hinges on and worked the alignment in and out until I was satisfied it was nice and straight. I used a metal rod through the little holes in the flap/aileron meeting point to keep them aligned with each other. I put an rtv gasket seal type suff on the rod end bearings before the last insertion so that when I had it where I wanted it, it would act as sort of a glue overnight so that I can remove the flaps/ailerons tomorrow and drill the rod end bearings and pin them in place. I'm pretty confident I know all about how to put together a Bearhawk wing now! Waiting on a few plumbing connections and it won't be long before I hang the wings on the plane and hook everything up for a control cable run through.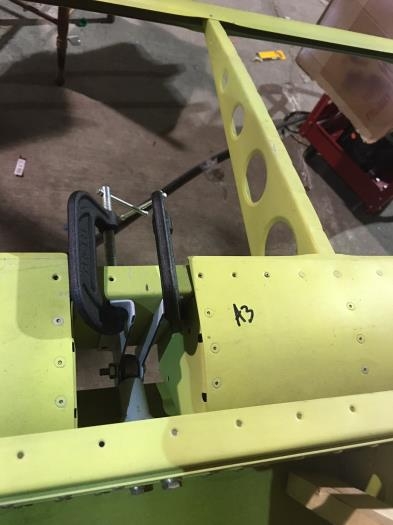 clamping hinges on flap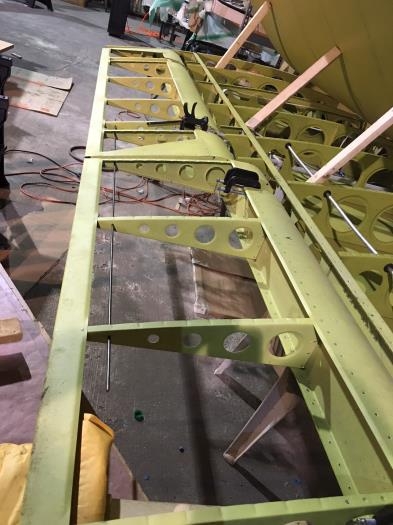 metal rod through the little holes for alignment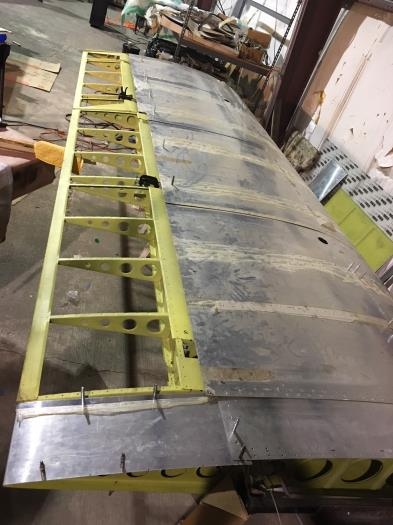 Nice and straight. I like it!
Previous Builder
Next Builder