Date: 03-16-2019

Number of Hours: 2.00

Short Description: Final Brake Adjustment and Right Landing Light Ins


Removed the right caliper from the axle and adjusted the pads until they were next to the stator. Put the top mounting bolt in place and tilted the caliper so the bleed values were at the top of the caliper. Bled each value until the peddle was tight. Completed the mounting of the caliper on the right axle. Removed the left caliper and readjusted the pads closer to the stator. Tested the brake peddle and found it tight.

Installed a vent tube into the oil filler assembly by inserting a 1/8 inch tube down the fill hose and wiring the top end to the cap lip of the filler. This will vent the tank with filling with new oil (I hope).

Removed the right landing light lens and mounted the light on the frame. Ran the wire through a 3/8 inch plastic tube which will be mounted up the right inside of the fuselage keeping the wires clear of the rudder bar. Connection of the wires to the control box will occur during the next work day.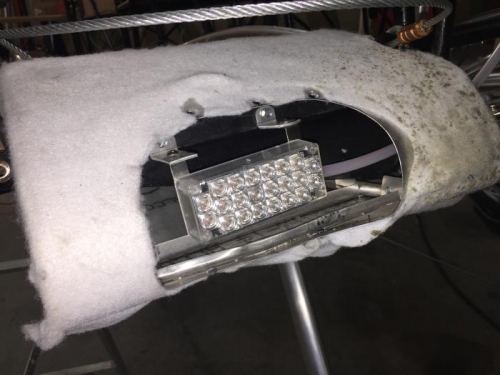 Right Landing Light