Date: 09-24-2018

Number of Hours: 2.20

Short Description: Installed Brake Calapers on Aircraft Wheels


Jacked up the right side of the aircraft and mounted the right wheel on the axle. Repeated the same for the left side of the airplane. Mounted the right side caliper with two 3/8 by 4 1/2 inch bolts with self locking nuts. Connected the brake line to the caliper. Repeated the mounting of the caliper on the left wheel.

Installed the belly pan on the aircraft by sliding the pan forward from the mid area of the aircraft and sliding it in place. Pushed up the center of the pan while carefully moved each side over the bottom longerons. Installed a 1024 screw in the center front hole leaving it loose. Maneuver the rear of the pan over the longerons and installed a 1024 screw in the center aft edge. Mounted the remaining screws in the pan to complete the installation.

Marked out the right access panel on a scrap of 0.24 aluminum and cut it to size. Filed each of the edges smooth and checked out the fit for the space on the right wing stub. The mounting screws will be installed during the next work day.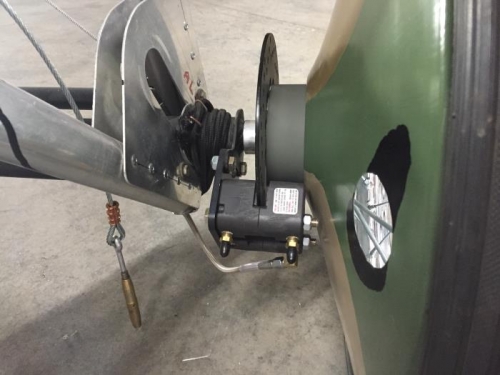 Right Wheel Disk Brake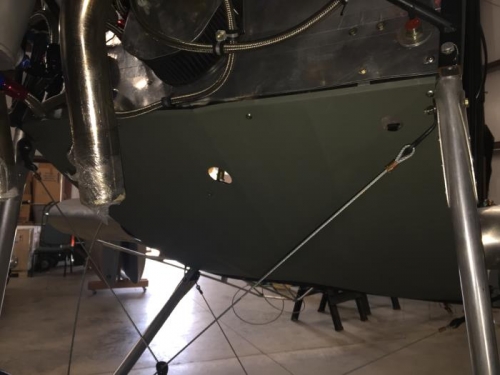 Belly Pan Installed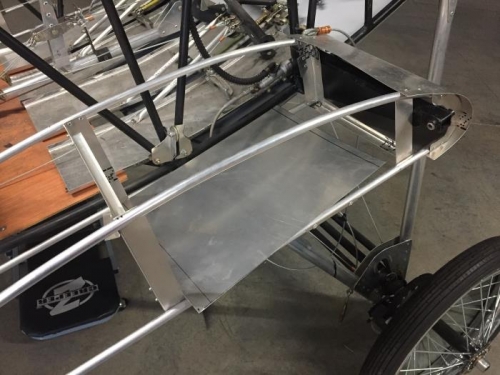 Access Panel for Right Wing Stub