Date: 01-15-2019

Number of Hours: 4.00

Short Description: Oil Door


If there was one thing I was not impressed with when I first saw the factory S-20 it was the oil door.

It is my understanding that the new kits come with a different firewall forward and a different oil door, but my kit came with a door that consists of a thin aluminum sheet that sits on the outside surface of the cowl, and is hinged with a piece of fabric. I thought it was a lapse in the level of fit and finish of the Raven kit.

I also wanted to store my fuel sample cup outside of the cockpit to avoid smelling up the cabin, and making my oil door open-able without tools will allow me to store the cup under the cowl.

The most difficult part of this task is accommodating the bend at the upper forward corner of the cowl.

I first drew my plan out on the cowl. I used the original door for a size and location reference, and lengthened the hole about an inch rearward to make room for the cam lock fastener. I drew the outlines on the side of the cowl and adjusted them until I was happy with my plan. I used 0.040" aluminum for both the door and the backing plate. I bent the parts to match the cowl shape with a rubber mallet and a piece of pipe in a vice. The hinges are from RANS. I found the part number in the S-10 manual on line. I think they may be used on other models also. The hinges are located towards the bottom of the opening where it is flat. I used some brass washers between the door and the hinges to make the door flush with the outside of the cowl. The cam lock is from Aircraft Spruce. I used an adjustable base which made installation pretty easy and fool proof.

I have to give Mark P. credit for the inspiration for this idea. He documented a similar set up in his S-6 build, except he made his parts out of fiberglass.

Next up - Revised oil cooler brackets.....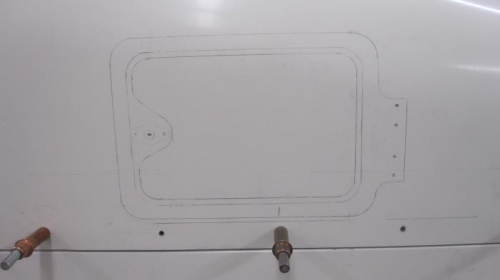 The plan!!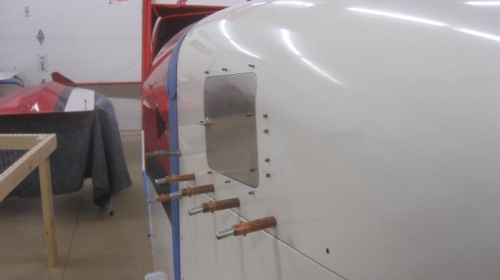 It fits!!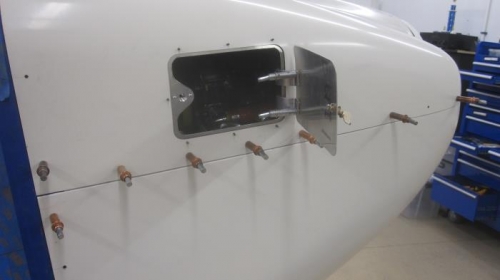 Tool free access to the dipstick.