Previous Builder
Next Builder
Date: 05-20-2019

Number of Hours: 3.00

Short Description: Silicone the Windows


Today's task was to silicone the windows. I don't have the wing cuffs final installed as they will be in the way when removing the wings to transport the plane to the airport, but I was able to get all the rest of the windows done.

I think sloppy silicone is analogous to sloppy duct tape, and I had visions of silicone getting everywhere making a terrible mess of the whole plane..... This turned out to be an enjoyable task....

I used 1/4" fine line tape and masked off the windows allowing 1/8" gap for the silicone. I also ran the tape around the outside so I had clean edges on both sides. On the windshield hold down strip I left a 3/16" gap, and on the rear of the skylight I left about 1/4".

To avoid fighting with squeeze tubes of silicone I ordered a set of four 20 ml syringes from Amazon, and I used a large tube of silicone in my caulking gun to load the syringe. This made the application of the silicone bead very controllable and consistent.

Once a bead was done around a window I sprayed my fingertip with 409 cleaner and created a fillet. After a few windows you develop a feel for this. The beads always contained excess silicone, and at first I pushed too hard and the material piled up in front of my finger. Eventually I turned my finger a bit and used less force and the excess silicone would glide off the sides of my finger and end up on the tape. Once the fillet was created I pulled the tape, being careful to not let it hit and transfer silicone to any other parts of the plane.

It was extremely difficult not to immediately clean up the couple of areas where the silicone got outside the tape, but I found that it was easy to peel off and clean these areas the next day.

I have now done everything I can on the plane before moving it to the airport, which will be this Saturday pending decent weather.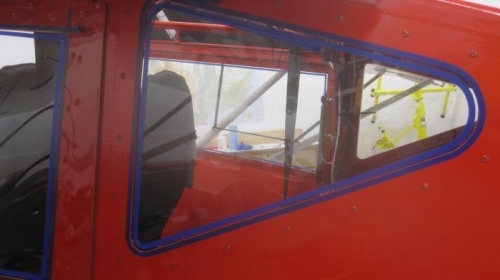 The taped off windows.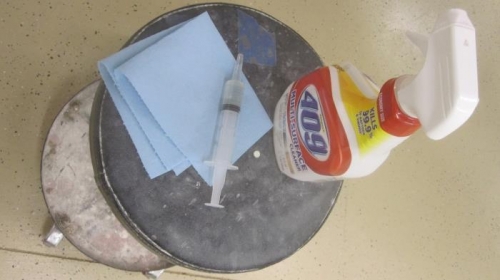 The tools of the task.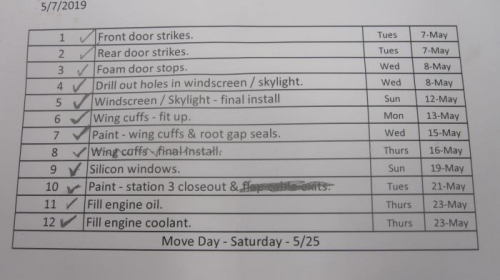 My list to move day is complete!
Previous Builder
Next Builder