Previous Builder
Next Builder
Date: 08-15-2017

Number of Hours: 0.00

Short Description: Modifications Following Test Flight #2


Following the second flight test, several modifications were made to address the issues exposed before and during the flight.

In the previous post, I commented that "Two approaches and one ugly landing were completed." The ugly landing was my biggest concern. There are several possible causes including: a pilot who hadn't flown a tailwheel in over a year, landing gear geometry, approach speed, etc. I am rusty landing tailwheel aircraft, but I believed there may have been other aggravating factors. So I checked the "Toe" of the main gear, and found them to be toed-in a combined 2.74 degrees. Recent reading (http://www.biplaneforum.com/uploads/20111027_130115_200901_EAA_CHAP.pdf) led me to believe that toe-out was potentially better than toe-in, so I decided to make the adjustment. There are strong opinions on both sides of the toe-in/toe-out argument, but I was having problems with toe-in, so decided to try the opposite.
Forty pound bags of salt were placed in the cockpit and on the wings to bring the plane up to the normal flying weight. Straight aluminum angles were clamped to the brake discs, and plumb lines were dropped from the front and rear centerline of the plane. A vertical laser beam was aligned with the two plumb lines. Measurements were made between the angles, front and back, to the laser centerline. Shims were added between the axle assemblies and the gear legs to provide a toe-out of 0.75 degrees on both sides.

The left flap was adjusted down very slightly to correct the heavy left wing.

Paint was removed from the inside of the flap detent plate to allow the detent pin to fully engage.

The current sensor was reversed on the negative battery wire so it would indicate properly on the EFIS.

The propeller bolts were also checked for proper torque.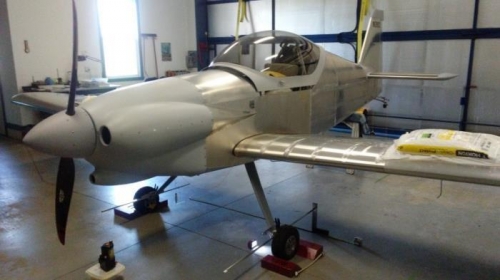 Main Gear Adjustment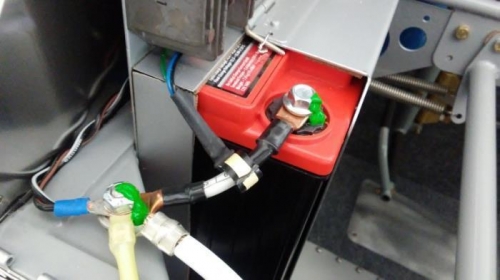 Current Sensor Reversed
Previous Builder
Next Builder