Previous Builder
Next Builder
Date: 07-20-2017

Number of Hours: 0.50

Short Description:

1) Well, now...how many times does one get to do a first landing in a homebuilt aircraft that ellicits this kind of results? It WAS a great landing...right down the middle, proper approach, proper speed and all that!!! I might even give myself a 10 on that one!! I hope and pray that All other landings are as good! Thanks, L-R, Clint Murphy, Bob Demunck, and Steve Riffe (just finished RV-8!) And Jimmy Finney for the fine photo work! Thanks for the confidences! this one will go on the wall!!

2) Sort of looks like I am relieved to be back, but I am actually giving a short debrief to Setve about the fligfht and the takeoff.

3) and of course, I had to thank God and mother earth for not smiting me badly! And Sirpeedee for being a faithful steed for this flight!

The ground crew was limited on purpose so as to not have too much going onother than my being focused on the flight. Family and other close friends did understand, and are ow3d a visual of an early flight in the near future.

Again, I am one happy happy camper,,,er,,,aviator! Now th real work begins with getting little things corrected, like bad squelch control on the com radio. As ham operator and electronics guy for many years, That wont stand for long!!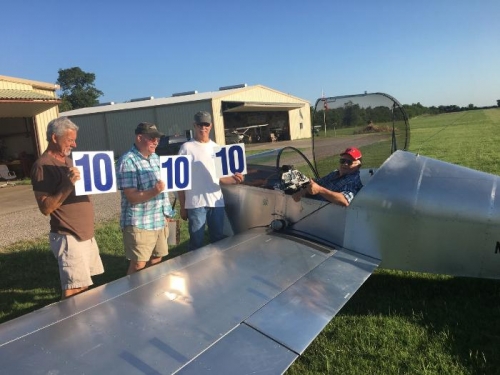 First landing!!!
debriefing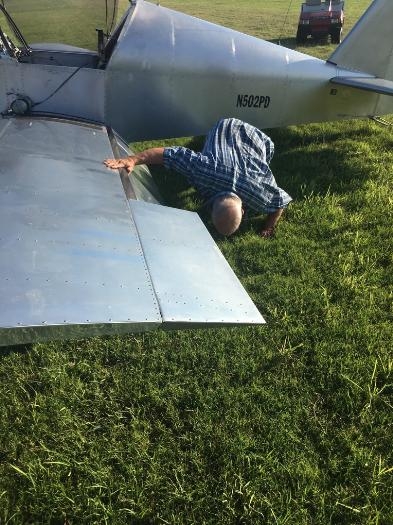 Thankfullness!
Previous Builder
Next Builder