Previous Builder
Next Builder
Date: 12-21-2017

Number of Hours: 2.00

Short Description: engine heater


As time goes by, I have been busy, and have forgotten to take pictures of my intall of an oil filter system. However, the next time I have the cowl off I will try to remember to take pictures. MY bad!!
1) In my own defense, I did take pictures of the engine preheater system. It is using the same heater element I had for the 172 for years. The initial device was intended to mount in a household heating duct outlet for auxillary heating. Originally it was thermostatically controlled, but that was bypassed as it would not get hot enough with the added ducting. When on the 172, there was no ducting and the freeflowing output air was enough to keep things happy, thermostat wise. this picture shows a thermometer inserted into the outlet, and it usually runs just shy of 170 deg. Plenty hot to make the fiberglass quite warm...as if the engine just was shut doen after a nice flight.
Anyway, the heater was made to satisfy me about preheat on cold days. I have yet to configure it to also blow into the oil cooler to actually warm oil, but since I do have several openings into the crankcase, I need to investigate the possibilities of using a temp controlled dip stick,
The next projects is to change the small tires for 500x5 tires, and finish fabrication on the improoved rudder/tailwheel linkage using heim ends.
The last flight was using TCP fuel additive for lead scavangeing, as I have had some on #3 exhaust valve already. I also used it on the Cessna and like it for what it does.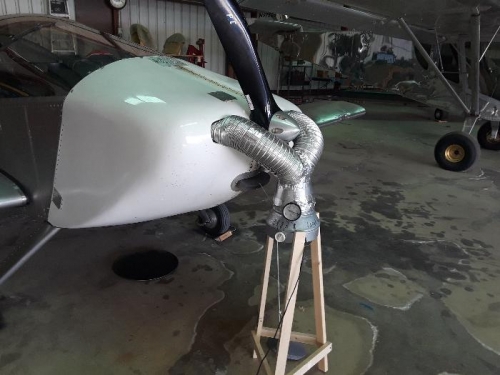 heater with tem p gauge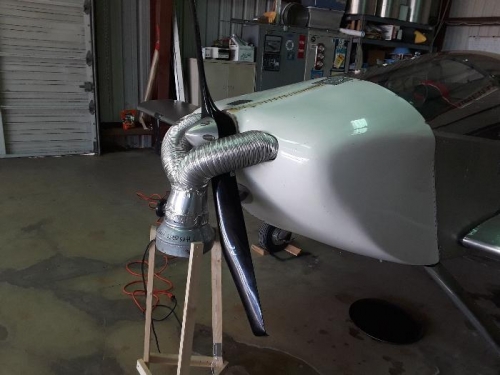 LH side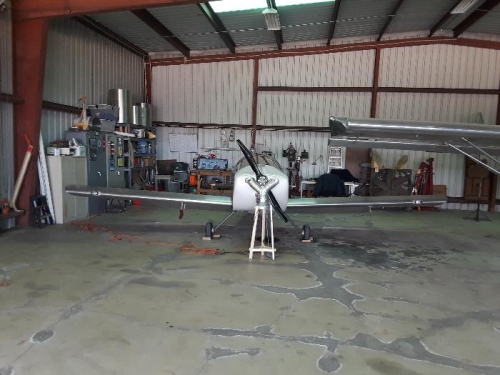 overall
Previous Builder
Next Builder