Previous Builder
Next Builder
Date: 10-21-2015

Number of Hours: 1.00

Short Description: Seat Mod - Nutserts in T-handle


Finally put in blind nuts to ease removal and installation of seats. Used Nutserts to accept AN3 bolts.

A Nutsert kit with installation tool is the cheapest approach to installing a small number of blind nuts. Much cheaper than say Rivnuts. Just required drilling out holes to 9/32 per instructions.

The key is to install the nutsert 'backwards'. Normally they are inserted and installed from the same direction as the bold is inserted. However, the finished installation is not entirely flush on the bolt side. In the case of the T-handles, that face is supposed to fit flush against the seat frame (not shown here) with bolt going thru both. The bolt is going thru in the correct direction in these photos. But, the nutserts can be installed on the back side or in the pictures, the top side.

The Nutserts are installed with the little tool see on the left and a phillips head screw - both supplied in the installation kit.

Worked perfectly and cleanly.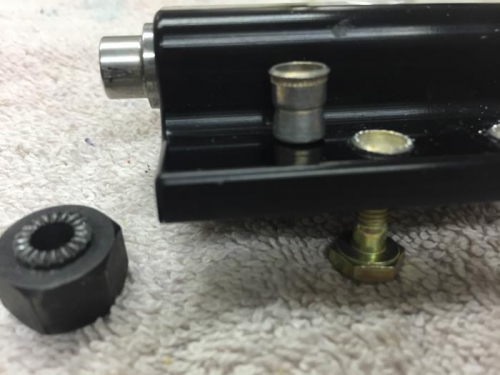 Nutsert tool, Nutsert uninstalled and installed
Previous Builder
Next Builder