Previous Builder
Next Builder
Date: 12-10-2014

Number of Hours: 0.00

Short Description: Control Lock using Bogi Bar Tow Bar


I bought Bogert Industries "Bogi-Bar" as a tow bar for my '10. Works very well as a tow bar.

However I also found it makes a good control lock to solidly lock the rudder in place. Locking the rudder in place is essential in this no-spring design. The rudder will get slammed side to side by tailwinds when parked if not locked. It only takes a minute to do at least superficial damage.

It also works well as an aileron and elevator lock though the '10 can generally be left with ailerons and elevator unlocked with former damped by trim springs and the latter by weight.

To work, no modification is necessarily required to the Bogi-Bar as delivered. The round sockets that normally engage the nosewheel will fit into the gap at the bottom of the rudder pedals and the handle will jam fit into the front of either seat if the seat is in the rearward position. If you place the stick between the actuation handle and the main shaft of the Bogi-Bar, it limits the travel of the stick pretty effectively though the controls can be moved thru a limited range.

This arrangement is made more secure by welding on tabs (washers in my case) to wheel sockets so they key fit into the bottom of the rudder pedals.

It is also made more secure by wrapping a bungee around the stick and the Bar. This will further limit or eliminate movement of the ailerons and elevator.

Others secure the seat end by extending the bar to the operational position and jamming in place against the seat back or head rest. Then using the seat belts to lock it down. I've never done this simply because jamming it into the front of the seat has worked with failure so far.

And obviously this is fool proof from a "I forgot to remove the control lock" perspective, particularly if locked on pilot side.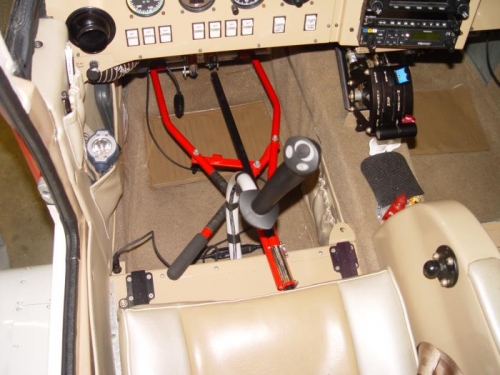 Collapsed Bogi Bar inserted in bottom of pedals and capturing stick
Seat in rear most position - bar jammed in place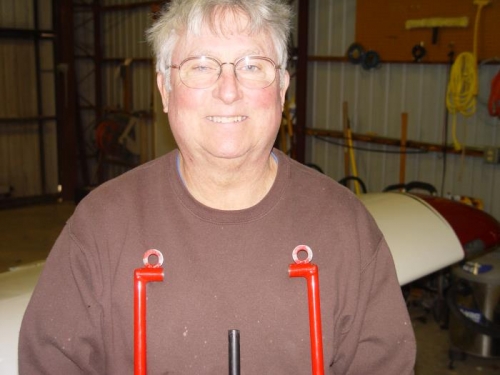 Welding neighbor Rick showing mods to Bogi-bar
Previous Builder
Next Builder